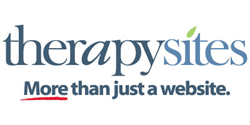 Downers Grove, IL (PRWEB) December 08, 2014
TherapySites (websites for therapists) is hosting a free webinar titled "Advanced Private Practice: Take Your Practice to the Next Level! The 60-minute webinar, presented by special guest speakers Norman Dasenbrook and Joyce Marter, will be offered on Tuesday, December 9th, at 1pm Central Standard Time.
Reserve Your Seat and Register Now

"Advanced Private Practice: Take Your Practice to the Next Level!

Tuesday, December 9th, at 1pm CST
More than half of all small businesses currently have websites and are marketing themselves online. Its where business is being done. And with that amount of competition, it leaves many practice owners to wonder how they can stand out and what they can do to grow their business. In todays world, just starting a practice isnt enough, it is important to market it, be online, and make it stand out in order to make money and be successful.
In this webinar, attendees will learn to grow their practice by:


Shifting gears from mental health to business
Diversifying income streams
Optimizing social media
Marketing more effectively
Developing their brand
Hiring additional clinicians
Mental health professionals are constantly seeking new ways to grow and streamline their practice to offer the best client experience, said Tracy Wasinski, Business Development Coordinator at TherapySites. Being able to have experts in the field like Dasenbrook and Marter share their proven techniques and knowledge is exciting.
Norman C. Dasenbrook, MS, LCPC is a Licensed Clinical Professional Counselor who has over 30 years experience in the fields of mental health, consulting, teaching, business and alternative dispute resolution processes. He is the author of "The Complete Guide to Private Practice for Licensed Mental Health Professionals." Along with running his private practice in Rockford, Norman is also a mediator and collaborative law professional concentrating on family, corporate and work group mediation.
Joyce Marter, LCPC has been a licensed psychotherapist since 1998 and is CEO of Urban Balance, a counseling private practice she founded in 2004 in the Greater Chicago Area. She currently serves as the President of the Board of the Illinois Mental Health Counselors Association. Joyce is a blogger for PsychCentral and The Huffington Post and is routinely consulted as a psychological expert on television, radio and has been featured in such publications such as The Wall Street Journal and U.S. News.
TherapySites specializes in creating websites that are engaging, professional, cost-effective, and extremely simple to maintain. Therapists can successfully market and manage their practice online with the $ 59/month package (with no set-up fees or contracts). The service includes everything thats needed for a professional online presence, including Search Engine Optimization, integrated email, editing tools, credit card processing, online appointment notifications, and unlimited technical and customer support. For more information please contact us at 866-288-2771.
Register now for the educational webinar:

Advanced Private Practice: Take Your Practice to the Next Level!

Tuesday, December 9th, at 1pm CST