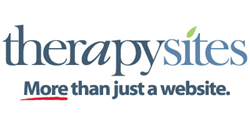 Boulder, Co (PRWEB) July 15, 2014
TherapySites, the leading website and online marketing company for mental health professionals, announced today its affiliation with Professional Development Resources (PDR). This new relationship allows TherapySites to continue to extend their online marketing solutions to PDR customers, adding exclusive benefits and promotional offers.
With over 2.5 billion internet users and a billion smartphone users, the Web has changed the way people are doing business, said Denise Marshall, Business Development Coordinator at TherapySites. That is why we are so excited to be partnering with Professional Development Resources. With their array of online continuing education courses and our comprehensive website services, we have founded a partnership that is truly beneficial for both parties.
About Professional Development Resources:
Professional Development Resources specializes in continuing education units (CEU) for mental health professionals. With a selection of over 100 relevant and interesting home study courses, users can browse their online library, choose their topics of interest, and get the amount of CE credit needed. PDR offers video, online, and book-based courses ranging from one hour to eight hours. Mental health professionals can start learning immediately after enrollment and print certificates instantly upon passing the posttest. Visit https://www.pdresources.org/ today for a continuing education experience that is both user-friendly and rewarding.
About TherapySites: Websites for Therapists
TherapySites specializes in creating websites that are engaging, professional, cost-effective, and extremely simple to maintain, helping mental health professionals successfully market and manage their practice online. The TherapySites package includes everything necessary for a professional online presence, including basic search engine optimization (SEO), integrated email & editing tools, credit card processing, and online appointment notifications, all with no contracts or setup fees and unlimited technical and customer support.
As an added benefit, PDR customers will receive their first month with TherapySites free by entering promo code "PDR. For more information about how you can start building your online presence, visit http://www.TherapySites.com.