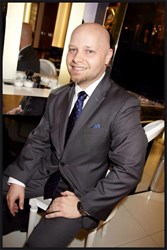 Edison, NJ (PRWEB) October 11, 2013
Trendy European hairstyles, fashion designers, and top salon industry talent will be featured at the Euro Beauty Expo 2013 in Edison, NJ this month, an event for salon professionals to learn new hair styling techniques and see the latest trends from European salons.
Co-produced by Stephen Marinaro, also known as TheSalonGuy, the beauty expo will be the first time the London-based Rush Artistic Team will appear in the United States. Marinaro is partnering with Emiliani Enterprises, a Salon Centric Company to produce the event at the New Jersey Convention & Expo Center October 19th – 21st, 2013.
International salon brands, such as Paul Mitchell, Farouk and many more, will be conducting classes all three days of the event and European-inspired hair creations will be featured on the runway with the collections of Henry Picado, Sisa Designs and 5 other talented designers.
TheSalonGuy is better known for his celebrity and designer interviews from the red carpet to fashion week. FashionMingle.net, a PR platform for fashion entrepreneurs, recently sat down with him for an interview to discuss his quick rise as a media personality and how he has achieved almost 2 million views on his YouTube channel.
Stephen began his YouTube channel, TheSalonGuy, four years ago as a place to provide hair styling tips, showcase top industry talent and provide inspiration. Using his connections to get in the door of the fashion and celebrity world, his unique style and personality quickly grew his YouTube audience into numbers that got the attention of industry insiders such as Broadband TV and Rightster which has quickly propelled his channel to almost 2 million views.
In the interview on FashionMingle.net, Stephen shares his tips for building a successful brand and his entrepreneurial journey from hair stylist to media personality. TheSalonGuy brand is now recognized as more than a media personality, his online network provides branding and event production services as well as web development, graphic design, and SEO, helping other entrepreneurs grow their own brand and online presence.
About FashionMingle.net

FashionMingle.net is a PR platform for fashion entrepreneurs to share, discover, and mingle. The business directory and social network create a platform for fashion entrepreneurs to promote their services and grow their business. More information can be found at FashionMingle.net.