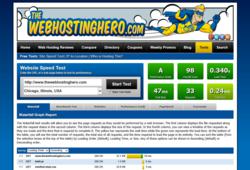 Sherbrooke, Quebec (PRWEB) April 17, 2013
Web hosting industry website, TheWebHostingHero.com, has announced the availability of its newest online tool for testing website page load times, along with step-by-step tutorials on how to improve the speed and performance of websites.
When a web site, or individual pages on a website, take a long time to load, the negative impacts of a bad user experience can lead to high bounce rates, shopping cart abandonment, fewer visitors, lower SERPs, and a loss of sales and advertising revenue. Most website owners wont know how much they are losing in sales if they havent optimized their webpage load times.
Website owners and administrators now have a new tool to help them determine where bottlenecks are occurring on slow websites that have undesirable page load times. The Website Speed Test and Optimization Tool just launched on TheWebHostingHero.com features optimization tips after providing detailed diagnostic information with data and test results that include Waterfall, Benchmark Test, Statistics, Performance Grade, PageSpeed, and Traceroute.
Use of the Website Speed Test and Optimization Tool is free to use and does not require the user to install anything on their computer. Included in the results are concise tips on how to improve the performance of the website that was tested.
Our new the Website Speed Test and Optimization Tool provides reports from multiple performance analysis tools such as YSlow!, Google PageSpeed, and Apache Benchmark tool, said Stephane Brault, the owner of TheWebHostingHero.com and an expert in web hosting technologies. Users can see how their website performs from two locations in the United States, one in the United Kingdom, and one in India. We then provide detailed step-by-step tutorials on how to make your website load faster.
The Website Speed Test and Optimization Tool is currently available at http://www.thewebhostinghero.com/speed/ and can be found from the any page of TheWebHostingHero.com by clicking on Tools from the top navigation menu and selecting Website Speed Test and Optimization.
About TheWebHostingHero.com
TheWebHostingHero.com is a website that reviews providers of web hosting solutions and offers discounts and weekly promotions, provides news and information about the web hosting industry, and features a blog with articles and tutorials that can help website managers and administrators to improve the quality of their websites. Founded in 1995 by Stephane Brault, TheWebHostingHero.com has developed free website administration tools that include IP to Location, which can identify a visitors geographical location (ISP, country, region and city), and Who Is Hosting This Website, which can identify the web host of any website.