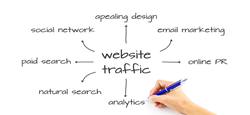 Seattle, WA (PRWEB) May 19, 2014
Think Strategy unveiled their new Think Traffic packages today to help small businesses increase online sales and leads by generating additional website visitors. The new packages allow businesses gain traffic through improved rankings in search results and managed ad campaigns for a low monthly fee.
The Think Traffic packages were designed as an affordable way for small businesses to gain sales and leads online, stated Bernard Ablola, Partner at Think Strategy. We wanted to offer an aggressively priced digital marketing package that fits within the budget of small businesses.
The new packages, the: Edison, Franklin, Tesla and Einstein provide businesses link building, monthly search engine optimization (SEO) reporting, and SEO website analysis and recommendations. In addition, some of the packages offer press releases (writing and submission), custom video creation, and managed Google AdWords campaigns.
Were leveraging our experience and using best digital marketing practices to drive online sales by attracting website visitors with Think Traffic, said Ryan Chin, Partner at Think Strategy. Were focused on allowing small businesses to concentrate on their core competencies while we employ digital marketing tactics that let them compete against rivals.
Small businesses are able to subscribe to the monthly packages immediately. Subscriptions are month-to-month and dont require contracts. Businesses are free to stop their subscription at any point.
Offering month-to-month subscriptions makes this perfect for businesses that want to reach a certain level of traffic, or for businesses that want to constantly keep increasing their web visitors, Ablola said.
While the Think Traffic packages offer a wide variety of services, businesses can also hire Think Strategy for additional services based on their needs. Aside from SEO and search engine marketing services, Think Strategy also offers web design/development, sales funnel management and landing page development. For more details on the Think Traffic packages (including pricing) or to order one, visit http://thinkstrategy.com/think-traffic.
About Think Strategy

Think Strategy is a full service digital marketing agency firm with locations in Seattle, WA and Jacksonville, FL, that assists business owners and marketing professionals with creating and executing an online strategy. Their goal is to help clients increase leads and sales on the web.