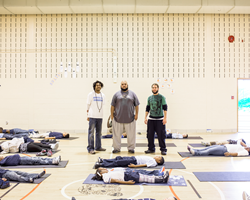 Seattle, WA (PRWEB) May 27, 2014
Think Strategy has announced it is providing digital marketing services to Holistic Life Foundation (HLF) in an effort to increase their supporter base and number of program participants. HLF is a thriving non-profit that provides wellness programs to children and adults in underserved communities. The Baltimore-based organization, which has been featured on NBC Nightly News with Brian Williams and PBS, is committed to learning, community, and stewardship of the environment.
As a non-profit, HLF values the donations it receives from supporters and is mindful of how they spend money. By working with Think Strategy, they are looking for cost-effective ways to market their programs and services.
"We're a great believer in the environmental, after school, workforce development, and stress reduction programs that Holistic Life Foundation provides – that's why we're excited to work with them," said Bernard Ablola, Partner at Think Strategy. "After talking to HLF, we were able to analyze their situation and create a digital marketing strategy to maximize their marketing budget."
To assist in HLF's marketing efforts, Think Strategy has developed a plan that involves lead generation, email marketing and Google AdWords (pay per click advertising). Using Google's Grant program that provides up to $ 10,000 in AdWords credit per month to non-profits, Think Strategy is able to drive a significant amount of traffic to HLF's website without paying for advertising.
With the traffic, Think Strategy has focused on developing leads – potential program participants, volunteers, and donors – by driving people to sign up for HLF's email lists.
"We've been able to leverage our years of experience and knowledge in search engine marketing (SEM) and lead generation to greatly increase HLF's marketing reach," stated Ablola. "It shows our versatility in digital marketing. We're able to take the principles learned from various sources and successfully them apply to organizations regardless of size, industry, or if they are for-profit or not."