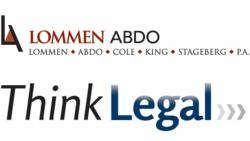 Minneapolis – St. Paul, MN (PRWEB) January 31, 2013
ThinkLegal, LLC a full service legal marketing agency, jointly with Reynolds Group Advertising, worked with Lommen Abdo Cole King & Stageberg, P.A. to create a custom website for the firms medical malpractice group. Lommen Abdos medical malpractice group represents clients throughout much of the Midwest, including Minnesota, western Wisconsin and North Dakota, providing each client with experienced legal representation to find the answers to what happened, gain justice and the financial security necessary to deal with injuries caused by medical negligence.
By working with ThinkLegal on the custom site, Lommen Abdos Medical Malpractice Group has taken strategic steps toward ensuring that the site is future-friendly. Designed with the latest technology, the site will provide Lommen Abdos users with an excellent experience on any device from smart phones to large screen TVs. Known as responsive design, this adapting screen display is critical as the number of mobile users continues to increase. The percentage of users performing mobile searches is projected to surpass desktop searches within the next two years.
ThinkLegal, LLC serving clients nationwide, specializes in marketing solutions for law firms, including custom website design and development, branding, logo creation, content development, pay-per-click campaigns and optimization for search engine visibility, local search and lead conversions.
Step into the future, contact ThinkLegal (http://www.thinklegal.org), 651-200-3832, to ensure that your marketing efforts provide measurable results! Smarter Websites. Better Results.
Check out Lommen Abdos new medical malpractice website. Medical malpractice is an intellectually challenging field of law and the lawyers who choose this field have to know how to find answers to extraordinarily complex questions of medical science. Visitors of the new website will see the wide range of medical malpractice areas that the Lommen Abdo law firm handles. At the same time, these lawyers never forget the human suffering that medical malpractice causes. When you visit the new website, you will see that Lommen Abdo lawyers combine that expertise with compassion for those injured and their families. Lommen Abdo Cole King & Stageberg, P.A., has offices in both Minneapolis, Minnesota and Hudson, Wisconsin, for more information call 612.587.2925.