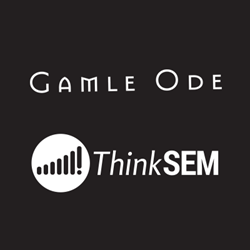 Minneapolis – St. Paul, MN (PRWEB) September 24, 2013
ThinkSEM Consulting, LLC a full service online marketing agency, worked with Gamle Odes owner, Mike McCarron, to create a custom website for the specialty liquor developer. One of few North American companies producing aquavit, this Scandinavian specialty spirit is currently available in three versatile varieties through Gamle Ode: Dill, Celebration and Holiday.
By partnering with ThinkSEM on the custom site, Gamle Ode has taken strategic steps toward ensuring that the site is future-friendly. ThinkSEM's design utilizes the latest technology; this responsive site will provide Gamle Odes visitors with an excellent experience on any device from smart phones to large screen TVs. Known as responsive design, this adapting screen display and functionality is critical as the number of mobile users continues to increase. The percentage of users performing mobile searches is projected to surpass desktop searches within the next year.
ThinkSEM Consulting works closely with professional services firms, from sole proprietors to Fortune 500 companies, from all parts of the nation, to generate measurable marketing results for each client. Marketing solutions include custom website design and development, branding, logo creation, content development, pay-per-click campaigns and optimization for search engine visibility, local search and lead conversions. To ensure that your marketing efforts provide measurable results, contact ThinkSEM (http://www.ThinkSEM.com), 651-200-3831.
To create the three aquavit varieties, Gamle Ode chose a skilled distillery partner, 45th Parallel, in New Richmond, Wisconsin; keeping the entire process local and handcrafted. Gamle Ode Aquavits are traditional Scandinavian spirits flavored with herbs, often thought of as multi-flavored vodkas or herbal twists on gin. Gamle Ode Aquavits are widely available in liquor stores, bars and restaurants in the Twin Cities, out-state Minnesota, Illinois, Madison and Milwaukee areas, Oregon and beyond. Whether you are of Scandinavian heritage or simply a connoisseur of different and interesting drinks, join in the tradition and celebrate with a Gamle Ode Aquavit. Check the Gamle Ode website for aquavit drink recipes and updates on the expanding list of online retailers, stores and restaurants that carry Gamle Ode Aquavits or email: info(at)gamleode(dot)com.