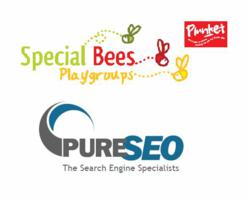 (PRWEB) December 21, 2012
Special Bees is a playgroup run for young children with disabilities and their siblings (ages 0-5). This important program is making a difference in the lives of those children who are affected by a range of different disabilities. Special Bees is in association with Plunket, and is unique in the way that it is directed by professionals who are specially qualified in working with children with disabilities. Special Bees provides a fun and comfortable environment for children with an intellectual disability to come have fun playing with toys, games and a variety of sensory toys alongside their caregivers.
Special Bees takes place every 2nd and 4th Monday of the month (during term time) at Zion Hill Methodists Church in Birkenhead, Auckland. It is only $ 3 (donation) per family which includes tea, coffee and morning tea for caregivers. This unique program was born out of recognition for the need of a care group that it tailored towards young children with disabilities and their siblings. The head program director, Emily Conway, has extensive experience in the UK working with Autistic and disabled children in need of holistic family support. With a Postgraduate Qualification in Social Work (PQSW), a Post Qualification in Child Care Award (PQCCA) and an MSc in Research whilst working as a Senior Social Worker for Shared Care in London England, Emily brings an abundance of knowledge, passion and experience to the program.
Special Bees have not managed to secure funding for 2013, therefore Pure SEO are proud to fund the organisation for 2013. The team hopes to also spread awareness of the importance of supporting children with special needs and their families. Special Bees provides a comfortable and fun environment that caregivers can attend knowing their child will get the care and attention necessary for progressive development. For more information on Special Bees please check out Special Bees and Childrens Autism Foundation.
Pure SEO are also excited to announce they will be moving to Unit 1 The Business Centre, 36-42 Sale Street, Freemans Bay, Auckland on January 1st. They have been busy painting and readying the space to be their new tech savvy quarters just across the way from Sale Street Bar. The move will provide the team with the needed space for their rapidly growing team. Pure SEO provides New Zealand and international businesses with a variety of online marketing services and is rapidly expanding along with the market and high demand for quality white hat search engine optimisation services.