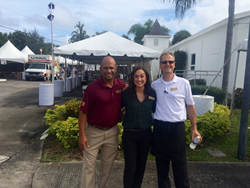 Boca Raton, Florida (PRWEB) November 25, 2014
St. Andrews Country Club, Addison Reserve Country Club, Boca Grove Golf and Tennis Club and The Polo Club continue the tradition of coming together to aid Congregation B'nai Israel of Boca Raton and Ebenezer Missionary Baptist Church in their 30th Annual Feed the Hungry Program that provides Thanksgiving dinner to over 4,000 area residents on Tuesday, November 25. St. Andrews Country Club has organized the donations of traditional Thanksgiving side dishes by recruiting other area clubs to participate for the past six years.
Organizers of Feed the Hungry once again contacted Craig D. Martin CCM, Chief Operating Officer and General Manager of St. Andrews Country Club to reach out to his colleagues to provide side dishes this year. Martin commented, I appreciate the opportunity each year to participate in such a great community event. This annual event is rewarding for all parties involved and I am once again inspired by the St. Andrews Country Club Board of Governors and my fellow Club Managers Association members who continue to provide all of the side dishes requested.
Martin commented, This charity is one we look forward to participating in every year. It is very important to us to come together and use our resources to help those who are less fortunate, especially during the holiday season. We have to thank our respective executive chefs and their superior culinary staff who prepare the side dishes for Feed the Hungry in addition to preparing Thanksgiving Dinner for thousands at our clubs.
We are truly thankful for the generosity of all of the participating clubs in the area, especially Craig Martin who has recruited neighboring private country clubs each year to help us. Their help really makes a difference and I want to express our gratitude to them, and especially to St. Andrews for their continual support, said Janyce Speier, a Feed the Hungry volunteer and St. Andrews C.C. member.
The four country clubs are providing mashed potatoes and gravy, sweet potatoes, mac & cheese, rolls and stuffing to Congregation B'nai Israel of Boca Raton and Ebenezer Missionary Baptist Church. Over 4,000 people, mostly children, from Boca Raton, Deerfield Beach, Delray Beach and West Palm Beach are expected to partake in this 30 year old tradition of fellowship, love and respect. Each person will leave with a small leftover treasure for them to enjoy during the week.
The Feed the Hungry Thanksgiving feast will occur on Tuesday, November 25 from 3:00 p.m. 7:00 p.m. at Ebenezer Baptist Church, 200 NE 12 Street, Boca Raton, FL 33432. Directions: Dixie Highway south, left after Glades Road. Follow the road around to the left of the church. For additional information, call CBI Coordinator Greg Jacobs at 561-239-0016 or Ebenezer Church at 561-391-7357. The church building will be used to stage the food, dessert and beverage areas, tents will cover the parking lots with plenty of tables, chairs, lighting and volunteer DJs. The two congregations provide roundtrip buses to some neighborhoods for families and children.
# # #

About St. Andrews Country Club:
St. Andrews Country Club of Boca Raton, resident-only Platinum Club of America and Distinguished Emerald Club of the World ranked in the Top Ten of Americas Healthiest Clubs is internationally recognized for magnificent estate residences and recently completed $ 17.5 million in renovations. The Club features superior amenities, two 18-hole championship golf courses, including an Arnold Palmer Signature Design