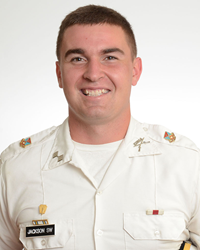 Fork Union, Virginia (PRWEB) May 22, 2015
Three cadets from Fork Union Military Academy have received appointments to attend the US Military Academy at West Point this coming fall. Seth Jackson of Dillwyn, Virginia, Mark Cavazos of Williamsburg, Virginia, and Nicholas Schrage of Bristow, Virginia, will join the incoming class of plebes at the US Army's prestigious college.
Although Fork Union Military Academy is well-known for preparing young men for acceptance to our nation's service academies, this is the first year in recent memory that three cadets will all be headed to West Point in the same year. It is not uncommon for multiple students to receive appointments to the various service academies (including the US Naval Academy, US Air Force Academy, US Merchant Marine Academy, and the US Coast Guard Academy), In one recent graduating class, seven cadets received appointments to service academies, but those appointments were spread across the different service academies with only two cadets accepting appointments to West Point that year.
Seth Jackson is the son of Mr. and Mrs. Kenneth S. Jackson of Dillwyn, Virginia, and has attended Fork Union for three years. He was selected as the Battalion Commander of the Upper School this academic year, the highest-ranking officer in the Corps of Cadets. Jackson was recently promoted to the rank of Cadet Colonel by the school's president, RADM J. Scott Burhoe, becoming only the third cadet leader in the past twenty years to achieve this distinction. Jackson's interest in attending West Point grew after he participated in a week-long Summer Leaders Experience event at the US Military Academy last year. He then went through the rigorous application process and successfully received the nomination of the member of the US House of Representatives serving his district, Congressman Robert Hurt.
Mark Cavazos of Williamsburg, Virginia, is the son of Mr. and Mrs. Daniel Cavazos. He has attended Fork Union Military Academy for four years. Cavazos describes himself as a competitive individual and he has enjoyed the atmosphere at Fork Union where he is driven by himself and others to excel and achieve. He is looking for that competitive drive to help him survive and succeed at the US Military Academy, known as one of the most rigorous institutions a college student can face. Cavazos leaves Fork Union as a state champion wrestler, having competed at the 220-pound weight class and placed first in the 2014 Virginia Independent Schools Athletic Association state championship, after finishing in third place the year before. He competed in Nationals, and achieved wins in his initial rounds, and is hoping to be able to wrestle for Army at West Point.
Nicholas Schrage, son of Mrs. Magda Schrage of Bristow, Virginia, achieved All-American status as a punter/kicker on this year's postgraduate football team. He was highly recruited to play football in college and received offers from many top Division I university programs, including the University of Miami in the hometown where he was born. But Schrage recognized that attending the US Military Academy at West Point would be the best choice to help him achieve the things he wanted to do in his life, so the Miami native turned down very attractive scholarship offers from the Hurricanes and other top national football programs, to play for Army this fall. He hopes to compete for a starting job on the football team as soon as he arrives and his dream is to kick the winning field goal in the closing seconds of the game to beat Navy in that great national rivalry game.
The national service academies, such as West Point, are recognized as being among the most selective universities in the world, with an acceptance rate as low as 8 to 12% of applicants. The US Military Academy at West Point awards a Bachelor of Science degree and is known as one of the country's leading engineering schools. Most graduates are commissioned into the Army at the rank of second lieutenant and must serve an active duty commitment in return for their tuition-free education.