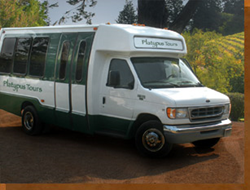 San Diego, California (PRWEB) May 28, 2014
Thunder SEO, an interactive marketing agency in San Diego, California, announces a new client and business relationship with Platypus Wine Tours, a California Wine Country Tour company located in Napa and Sonoma, California.
Platypus Wine Tours specializes in intimate and unforgettable wine tours. Their team of tour guides is knowledgeable and well-experienced and they love exploring the magnificent California wine country while entertaining guests and having fun. Their main regions include Napa Valley, Sonoma Valley, Carneros, Russian River, and Healdsburg (including the West Side, Dry Creek, and Alexander Valley).
Platypus Wine Tours is excited to announce their newest location for tours, Sonoma Valley. Each tour runs daily from approximately 10:30 a.m. to 4:30 p.m. and focuses on smaller, off-the-beaten-track wineries and historic family-operated wineries. Each wine tour group will visit four charming wineries in Sonoma and enjoy a delicious picnic lunch on the grounds of one of the wineries.
We have been conducting wine tours in Sonoma Valley for years, so we are very pleased to now have a terminal located there, says Don Rickard, owner of Platypus Wine Tours. The whole Sonoma region is a fascinating combination of California history, unique rural culture, and world-class winemaking. We are honored to be able to show it off to visitors from all over the world! Many of our tour guides have raised families in Sonoma, and those strong community ties have helped us make our tours all that much more compelling for our guests.
Platypus Wine Tours signed on with Thunder SEO in April 2014 and will be utilizing Thunders outreach and local search services.
Platypus Wine Tours offers small group join-in wine tours, private wine tours, and group charter tours for special events, social celebrations, corporate team-building functions and more. For additional information or to book your next tour, call 707-253-2723 or visit them online at http://www.platypustours.com/.
Founded in 2007 in San Diego, CA, Thunder SEO supports clients with innovative and results-driven online marketing solutions integrating social media, content optimization and promotion, link building strategies and implementation, local search and mobile marketing, online promotions and sweepstakes, public relations and online reputation management. Thunder SEO is located at 2920 North Park Way, San Diego, CA 92104. For more information on Thunder SEO, call (619) 618-2396 or visit them online at http://www.thunderseo.com/.