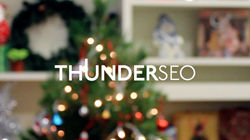 San Diego, CA (PRWEB) December 23, 2013
Thunder SEO, an interactive marketing agency in San Diego, California, announces their sustainable efforts during the holiday season, as well as year-round.
This year, Thunder SEO purchased their Christmas tree from Adopt-a-Christmas-Tree, a local organization that sells potted Christmas trees and then recollects the trees after the holidays and plants them. The goal is to cut down on both trees being cut down and the greenhouse gasses they release while decomposing in a landfill. For a small fee, they will even have singing elves deliver the tree to you.
"This is a great THIRD alternative to having a Christmas tree, said Christine McDannell, Head Elf and Owner of Adopt-A-Christmas-Tree. Everyone knows about cut trees and fake trees, but not everyone knows about having a potted Christmas Tree that can be reused each year, planted in your own yard after the holiday, or donated to be replanted. I am really excited this year because we are donating our trees to the Humane Society Wildlife Rescue in Ramona this season."
Another sustainable holiday tradition Thunder will be keeping this year, is online holiday cards, versus paper ones. Thunder will shoot and edit a video message that will be sent to friends, family, and clients over the holiday season and will not waste any paper in doing so.
A year-round eco-friendly aspect of Thunder SEO is the location. More than half of the employees live within walking distance to the office and take advantage of biking or walking to work, rather than driving.
Thunder also is very adamant about recycling and has bins for aluminum cans, glass, paper, etc. Once a month, someone from Thunder takes the collections down to the recycling plant and turns them in for cash. This money is then used to fund office lunches and field trips for the employees.
Founded in 2007 in San Diego, CA, Thunder SEO supports clients with innovative and results-driven online marketing solutions integrating social media, content optimization and promotion, link building strategies and implementation, local search and mobile marketing, online promotions and sweepstakes, public relations and online reputation management. Thunder SEO is located at 2920 North Park Way, San Diego, CA 92104. For more information on Thunder SEO, call (619) 618-2396 or visit them online at http://www.thunderseo.com/.