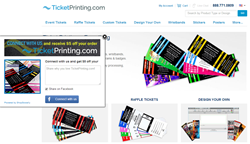 Mountain View, CA (PRWEB) August 14, 2014
Leader in the professional ticket printing industry, TicketPrinting.com is unlocking the latent power of social to drive sales conversion rate and revenue uplift by using ShopSociallys social commerce platform. TicketPrinting.com is using ShopSociallys Social Login app to make site-login process seamless resulting in an impressive 35.31% sales conversion rate for socially logged-in users.
TicketPrinting.com has also embedded ShopSociallys social commerce apps on its site to encourage social sharing of purchases and strike a deep connect with its site visitors. Social posts created during this process generate word-of-mouth recommendations and referral traffic. TicketPrinting.coms most influential social shopper has generated as high as 97 referral clicks via a shared purchase.
Adding social to our site is helping us serve our customers better. ShopSociallys social login is seamlessly extending the social browsing behavior of user to our e-commerce site, leading to a meaningful increase in sales conversion rate for us, commented Lance Trebesch, CEO at TicketPrinting.com.
ShopSociallys Social Login app offers users ability to register and log-in to a website using their social profiles. Social Login picks up the required information for registration from users public social profile, reducing the user-resistance to fill up lengthy registration form. Social Login also reduces password-fatigue as user does not have to create separate accounts on every site and remember the login credentials. This is especially crucial for e-commerce success as often customers abandon purchase process when asked to complete a lengthy registration process or retrieve forgotten login details. Social Login reduces cart-abandonment rate by extending customers default social browsing behavior to e-commerce sites and hence increases the sales conversion rate. An impressive 35.31% sales conversion rate for socially logged in users on TicketPrinting.com is a testimony to this fact.
Additionally, TicketPrinting.com has embedded two ShopSociallys social apps on its site to drive word-of-mouth recommendations:

(i)