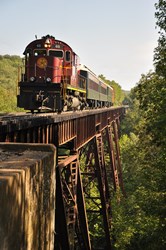 Philadelphia, PA (PRWEB) December 30, 2013
Fans of vintage trains and the Ozark Mountains will want to join the National Railway Historical Society convention based in Springdale, Arkansas. Tickets are now on sale for the six-day event taking place June 10-15, 2014.
Highlighting this years convention are four days of charter passenger trains on the Arkansas & Missouri Railroad, many over freight-only rail lines. All trains will be powered by the A&Ms fleet of classic diesel locomotives built in the 1960s by the American Locomotive Company. Attendees can also ride a special A&M photo freight train from Springdale to Mountainburg and back, featuring multiple photo stops, a dinner break and night photography opportunities.
Other NRHS convention events include:


Tours of the Fort Smith Trolley Museum and the A&M shops and yard facilities;
Coach and dinner train rides on the Eureka Springs & North Arkansas Railway;
A tour of the two-story 1910 Frisco Railway passenger depot in Fort Smith;
The first ever behind-the-scenes tour of the Silver Dollar City steam railroad in Branson, Missouri.
Non-rail events will include tours of the historic town of Eureka Springs and nearby War Eagle Mill, the internationally famous Crystal Bridges Museum of American Art, the Walmart Visitor Center located in the original Waltons 5 & 10, and the Botanical Garden of the Ozarks. Also taking place are the NRHS annual membership meeting, NRHS Advisory Council meeting, the society's annual banquet, and a variety of rail history seminars.
The convention will be based at the Holiday Inn – Springdale and the adjacent Hampton Inn & Suites. All convention meetings will take place at the Holiday Inn, including seminars and the annual banquet. Both hotels are offering a special room rate of $ 99 per night plus tax, which includes a free breakfast offered well in advance of morning event departures.
The NRHS convention offers a unique opportunity to combine tourism, train travel and history, taking attendees behind the scenes and offering photographic opportunities that can't be found anywhere else, said Barton Jennings, rail operations chairman for NRHS. Attractions in the Ozarks Mountain region range from world-class art museums to some of the most rugged hiking trails anywhere. June is a great time to visit Arkansas, as summer is just beginning and the tourist industry is in full swing.
For a complete list of convention activities, news and travel information, visit the convention website at http://www.nrhs.com/2014_Convention.
Springdale, Arkansas, is located in northwest Arkansas, a metropolitan area of approximately 500,000 people. Interstate 540 connects Springdale to Interstate 40 to the south. U.S. Highway 71 connects the area to the north, including Interstate 44 and north to Kansas City.
The Northwest Arkansas Regional Airport (XNA) serves Springdale and is located approximately 15 miles from the Holiday Inn Springdale. The airport is served by Allegiant, American, Delta, United, and US Airways with almost 50 flights daily. Other nearby commercial airports include Branson, MO, Springfield, MO, and Tulsa, OK.
Jefferson Lines Bus Service provides daily bus service to nearby Fayetteville and Bentonville. Local bus transportation will also be available. Amtrak does not serve the Springdale area, but service is available at Little Rock and Oklahoma City.
About NRHS

Founded in 1935, the National Railway Historical Society (NRHS) preserves and raises awareness of Americas threatened railroad heritage. NRHS operates historic rail excursions and tours throughout North America and supports more than 150 regional chapters. Since 1991, the non-profit organization has awarded nearly $ 600,000 in railroad preservation grants; it also sponsors RailCamp, a summer orientation program offering high school youth hands-on experience in the railroad industry.
Media Contact:

Elrond Lawrence

NRHS Public Relations

831-632-2183

elawrence(at)nrhs(dot)com