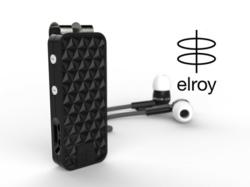 Charlotte, NC (PRWEB) April 01, 2013
Elroy is a Bluetooth device with a magnetic docking station for earbuds. With a cord just the length of normal headphones, Elroy eliminates tangled cords and adds functionality to a users digital lifestyle. Rob Honeycutt, Founder of Timbuk2, had decided to bring his manufacturing experience to the consumer electronics market with Elroy. While Honeycutt is busy, working out all of the products manufacturing details, Command Partners will take over Elroys crowdfunding campaign.
Wearable technology is becoming an important new form factor in consumer electronics. Elroy aims to get rid of the lower 2/3 of the earbud cord and replace it with a Bluetooth unit clipped to any users clothing. Weighing a little less than two US quarters, wearers will easily forget theyre wearing the device. Not only does Elroy allow for a shorter cord, but it gives your earbuds a place to live. Elroys patent pending, magnetic docking points offer a convenient and secure location to keep your earbuds untangled and quickly available while cooking, running, cycling, driving or at any time while going about daily life.
Rob Honeycutt founded the messenger bag company Timbuk2 in 1989. He created what is still a unique offering in the bag market with products that can be customized in millions of possible combinations, and then produced and shipped within just twenty four hours. No other bag company has ever been able to replicate his production system. Honeycutt ran manufacturing at Timbuk2 for 13 years and has over 20 years experience in many aspects of manufacturing, including injection molding, sourcing, cut&sew, transportation, packaging, labeling systems, weaving and converting, and factory level production and process flow.
One day, I realized you dont need the lower two thirds of the earbud cord and this idea is what inspired me to create Elroy, says Honeycutt. Elroy is the perfect combination of Bluetooth and earbuds, allowing for optimal listening enjoyment while giving users more freedom to move.
Command Partners, the top digital marketing agency in Charlotte, has agreed to execute Elroys Kickstarter campaign in order to raise the funds necessary to manufacture the product. With years of experience, Command Partners has carried out extremely successful crowdfunding campaigns including the COOKOO Watch, the TouchTime Watch, The InterLock, Remyxx Sneakers aka Rekixx Sneakers, td and more. Using a comprehensive approach, the agencys efforts include, but are not limited to, social media management, media list building, pitch crafting, media outreach, update and reward crafting and the list goes on.
Our team is honored to be working with someone who has such a plethora of experience in manufacturing says Roy Morejon, Owner of Command Partners. Rob has created a device that is sure to change the way people go about their daily lives and we expect to do big things together.
To learn more about the Elroy Bluetooth earbuds or to order a pair today, visit http://bit.ly/ElroyKS. Elroys Kickstarter campaign will end on April 17th at 10:01am EST, so be sure to place all pre-orders before then.
About Elroy
Elroy is the brainchild of Rob Honeycutt, Founder of Timbuk2, where he developed a production system that allowed customers to order customized products online. Now, Rob is bringing his manufacturing experience to the consumer electronics market with Elroy. Honeycutt believes that Made in the USA is not just a fun idea, but a better way to make products, and is excited to be part of what is going to be a new wave of domestic manufacturing. Manufacturing done right. For more information on Elroy, visit http://www.meetelroy.com.
About Command Partners
Command Partners is a digital media agency that focuses on driving online visibility and lead generation including social media marketing, search engine optimization, public relations and strategic advisory services. Command Partners works with clients ranging from high-tech startups and e-commerce brands to Fortune 500 companies. The agency is located in Charlotte, North Carolina and works with clients around the globe.
For more information on Command Partners services, visit http://www.commandpartners.com, Follow them on Twitter @CommandPartners and Like them on Facebook.