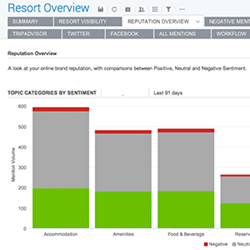 Orlando, Florida (PRWEB) July 31, 2014
INTUITION Brand Marketing is operated by Perspective Group, the leading independent PR & Media company globally for the timeshare industry and uniquely combines enterprise-level social media monitoring, brand reputation management and competitive analysis with original content creation, PR services and content syndication.
INTUITIONs base package focuses on monitoring brand reputation and visibility across more than 70+ million websites in near real time, and currently tracks and analyzes more than 600,000 online mentions per month for its client portfolio.
Beyond the base package there is an exhaustive and continually growing list of add-ons that provide options for an all-encompassing brand marketing strategy.
INTUITION has rapidly grasped the attention of the timeshare industry on a global scale, and has seen a significant increase in resort developer clients after adding new features that fully customize the brand marketing platform to suit specific resort operations and marketing needs.
Working closely with our clients provides us with the opportunity to identify areas for improvement, and where possible well custom create an exciting solution, says Paul Mattimoe, President & CEO, Perspective Group.
Some of the latest innovative features to be added recently include:
Social Lead Sourcing: This provides clients the ability to search all publicly available conversations across the Facebook and Twitter platforms for chosen keywords or phrases and have the results displayed in a custom INTUITION dashboard. The results include profile details, access to the full text of the conversations and can even identify the most impactful and engaged users within those conversations. The client can then create a marketing strategy to reach out to selected users to either follow their social page or account, or to send them a targeted offer that is relevant to the conversation.
Online Guest Surveys: Through a partnership with CustomerCount, INTUITION clients can discover even more about their existing members and guests – Vacation Stay surveys and Tour No Buy surveys are just some of the options that come complete with access to powerful real time analytics.
Custom Task Management Dashboards: For companies that have multiple departments that plan to use the INTUITION platform, fully customized Task Management Dashboards are created to mimic the specific daily roles and responsibilities of each unique user, so they can access only the data they need faster, for better efficiency.
INTUITION produces unrivaled insights into conversations about brands, products, services, and resorts from over 70 million websites, forums, blogs, news sites and social media platforms. Common trends are showing resort developers regularly use the service for Brand Reputation Management and Customer Service related monitoring, where data can be segmented into conversations about Accommodation, Amenities, Food & Drink, Reservations, Staff & Service, Vacation Club Sales and more. Vendors typically concentrate more on Competitive Analysis of how they are performing against their rivals, and tracking online conversations about their types of products or services to find prospective new clients or customers.
INTUITIONs social media monitoring component now tracks and analyzes more than 600,000 online mentions per month for its client portfolio.
The INTUITION service also specializes in content creation for enhanced brand visibility, from press releases, blog content and social media posts to editorials, interviews and fully custom made member magazines. In the last twelve months, INTUITION has produced and distributed more than 280 press releases, which equates to more than one per business day, and through syndication and online marketing has created millions of pieces of online content that improves upon the visibility of its clients, making it the most active PR firm in the vacation ownership industry.
INTUITION offers a highly customizable service for its clients, which include resort developers, exchange companies, marketing companies, design companies, software companies, management companies, associations, travel clubs, rental companies and more.
For information on how INTUITION Brand Marketing can help your organization visit http://www.intuitionbyperspective.com.
About INTUITION

Operated by Perspective Group, the leading independent PR & Media company globally for the timeshare industry, INTUITION offers a highly customizable enterprise-level platform for Social Media Monitoring, Brand Reputation Management, Competitive Analysis, Keyword & Marketing Campaign Tracking, Facebook Page Management, Twitter Account Management and much more. The service also provides a la carte options for PR services, such as press release writing and distribution, unique content creation, social media marketing and other customer communication services. For more information visit http://www.intuitionbyperspective.com.