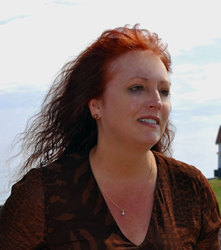 San Francisco (PRWEB) February 18, 2015
One of the earliest advocates protecting cyberstalking and cyberbullying victims, Jayne A. Hitchcock received the 2015 M3AAWG Mary Litynski Award today for her efforts in assisting targeted individuals, training law enforcement, supporting anti-harassment legislation and teaching teenagers how to protect themselves from potential threats. The lifetime achievement award for her work as co-founder of Working to Halt Online Abuse (WHO@) and in aiding thousands of online victims was presented today by the Messaging, Malware and Mobile Anti-Abuse Working Group at the M3AAWG 33rd General Meeting in San Francisco.
Hitchcock became an anti-abuse advocate in 1996 when a scammer targeted her with threatening emails and posted defaming messages in her name after she exposed a fraudulent publishing scheme on a Usenet message board. When the local police did not have the tools or knowledge to help her, Hitchcock fought back by learning all she could about the technology.
As a result, she became one of the earliest experts on how to identify online stalkers. She testified in support of the first U.S. email cyberstalking bill passed in 1998 and either has helped draft or supported legislative efforts establishing online harassment as a crime in 20 states. In her middle and high school educational programs for students, she shows how the students supposedly innocuous social media posts and profiles can make them vulnerable to threats and harassment.
Cyberstalking and harassment are hideous online crimes because victims often suffer in fearful silence without knowing where to turn for help or even that help is available. Jayne has brought this problem out in the open and her commitment has saved lives and kept the industry focused on working together to find solutions, said Chris Roosenraad, M3AAWG chairman of the Board.
Protecting Yourself against Cyberstalkers and Cyberbullying
About half the cases submitted to WHO@, a volunteer nonprofit organization fighting online harassment, are perpetuated by someone the victim knows such as a friend, ex-spouse or previous work colleague. The other half usually results from road rage when an online disagreement escalates to dangerous proportions, Hitchcock said in her acceptance speech at the M3AAWG meeting.
When a communication becomes threatening or harassing, you should respond just once by succinctly telling the perpetrator to stop contacting you. Dont get pulled into their emotional manipulation or accusations. After that, dont reply to their emails or other communications but keep a copy of everything. Also be sure to contact the abuse department where the agitation started, such as Facebook, Twitter or Snapshot, Hitchcock said.
To help protect yourself from being harassed, Hitchcock suggested: