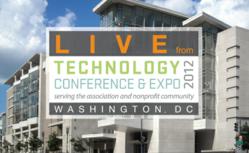 Vienna, VA (PRWEB) December 04, 2012
To help keep the more than 1,000 attendees as well as the association community at large informed, TMA Resources, the provider of Personify Association Management Software, is producing a short video series, "Live from ASAE Tech" to cover the hot topics, events and news at the ASAE Technology Conference & Expo, which will take place at the Walter E. Washington Convention Center in Washington, DC on December 5th and 6th.
These one to three-minute videos, recorded and released from the show itself, will include interviews with session thought leaders, ASAE Technology Section Council members, attendees and industry partners. Viewers will receive up-to-the-minute conference news. Plus, attendees can tune in prior to the conference to receive insider information on what to expect at the event.
"Live from ASAE Tech" video producer, Jenna Crane explains, This meeting is packed with great information to help association and non-profits better leverage technology to run their businesses. These short video segments help attendees stay informed and engaged in all aspects of the conference. We will cover everything from solutions covered in educational sessions to whats happening in the expo hall.
Episodes of Live from ASAE Tech are hosted at http://www.tmaresources.com/category/live-from-asae. Notifications of new videos will be released via social media channels throughout the entire length of the conference, so attendees can quickly consume relevant conference information.
Reggie Henry, ASAEs CIO says, This is the premium technology conference for the association community. Live from ASAE Tech will cover all of the conference buzz and help attendees and the broader association technology community stay engaged. We are thankful that TMA Resources is partnering with us to ensure that everyone gets the most out of this conference while also providing the opportunity for those unable to attend to stay connected.
For updates on new videos, follow @tmaresources on Twitter. TMA Resources also hosts three weekly video shows including, "Best Practices in Association Technology," "Association Tech News" and "Connect Plus."
-###-
TMA Resources, Inc: Headquartered in Vienna, Va., TMA Resources, Inc. and its team of highly skilled professionals produce constituent relationship management solutions. Clients include many of the most prestigious professional societies, trade associations, labor unions, and other member-centric organizations in the United States and overseas. For more information about the company, visit http://www.tmaresources.com.