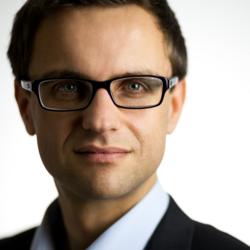 London, United Kingdom (PRWEB UK) 18 May 2013
As the latest trends in robotics and artificial intelligence show clearly the technology goes smart, and even more new kind of robots will emerge in the next years. Its impact on our economy and society will be significant, says Robert M Wenzel, Director at London Global Laboratories and known expert for future technologies and business. He speaks at this years Digital Shoreditch Tomorrows World, May 21th 4.20 pm in London, Shoreditch Town Hall. His topic is: When robots take over – What will be the killer application for robots and artificial intelligence?
In todays economy the acceleration of the technical development is tremendous. The internet revolution and nowadays the mobile industry reshaped the society and economy in the last decades, drastically. Robots will be the next big thing, Wenzel says.
Since years' robot competitions and conferences are increasing and showing impressive progress. However, todays robot and artificial systems need one final step to lead the next big revolution, the expert says. In his presentation Robert M Wenzel is going to point out what the crucial piece will be.
Wenzel founded the group Londons Artificial Intelligence Futurists earlier this year as a platform to debate the future of robotics and artificial intelligence or even to push it beyond its todays limits. He states that creating a great future throughout the group and his company London Global Laboratories, which advise at the intersection between business and technology, supports the ambition of moving technology in particular robotics and artificial intelligence to higher level of innovation, collaboration and agility.
Im delighted to speak at Digital Shoreditch Tomorrows World. Festivals like this are the key drivers for innovations the economy needs, says Wenzel. Last year it attracted over 10,000 visitors attended the event and the organizer expects even more this year. Among this are creative people, companies, and scientists who likes to shape the future, to create cutting edge innovations and to debate possibilities. I think it is a viral place to speak about when robots take over the singularity is near, points Wenzel out.
About London Global Laboratories

Founded in 2012 by Robert M Wenzel to continue a series of strong achievements, ranging from a world leading medical laboratory automation system, being co-founder & CEO of the award-winning company denro AG to advise at the intersection between business and technology. Robert M Wenzels passion and singular focus on future technologies, combined with leading business strategies, have resulted in a comprehensive and proven future shaping methodology that encouraging and engaging people shapes successful both future technologies and business performance. For more information or to meet Robert M Wenzel at the festival please tweet @RobWenzel or email to Robert(at)LondonGlobalLaboratories(dot)com and visit the webpage http://www.LondonGlobalLaboratories.com.