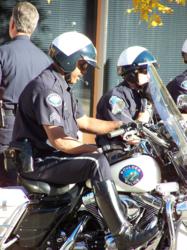 Boston, MA (PRWEB) October 21, 2012
According to the post-gazette*, motorcycle and bicycle officers are now utilizing new technology to better document crime scenes and increase accountability. The cameras are attached to police officers helmets and act as on-demand recording devices.
The cameras have the ability to record hours of video and audio, as well as upload their data to a cloud system, but for those who will actually be recorded, there remains a level of skepticism.
The cameras currently have the ability to be turned on and off manually by the officers who use them. Giving police officers this option has led to questions within the department as to the credibility of the program.
They can conveniently be shut off, stop working, become inoperable, and then the video document is gone, and youre back to the whole idea of credibility and whos telling the truth, said Beth Pittinger, executive director of the Citizen Police Review Board.
The cameras are costing police departments roughly $ 1,000.00 per unit and have the ability to retain up to four hours of recordings. Lt. Ed Trap, the programs primary overseer, is currently developing an upgraded device that will have an automatic trigger.
In 2002 the International Association of Chiefs of Police (IACP) was selected to conduct a national study to analyze the impact of in-car cameras on highway patrol, state police agencies, as well as the communities they serve. The study found that the single greatest value of the in-car camera was the positive impact that it had on officer safety.
If implemented properly, the motorcycle and bicycle helmet cameras have the potential to provide similar benefits.
Tom Kiley, Massachusetts personal injury lawyer, has been assisting victims of motorcycle accident collisions for decades. To give motorcycle officers the ability to record accident crime scenes and other important visual and auditory information is a step in the right direction. Not only will cameras like these lead to better accountability and safety for officers, but they may very well capture evidence that will hold defendants accountable following serious auto collisions.
Our firm is in support of such devices once the manual trigger has been converted into an automatic one, says Mr. Kiley.
As for now, officers are required to inform subjects that they are being recorded and are under order to turn their videos on during all traffic stops.
About Kiley Law Group: Massachusetts Motorcycle Accident Lawyers
The attorneys at Kiley Law Group have helped thousands of clients win millions of dollars. Tom Kiley, senior partner, has been named the Million Dollar Man by the Boston Herald and has obtained numerous other accolades.
For more information about Kiley Law Group, call 888-208-1695, or visit its website at http://www.tomkileylaw.com.
Attribution*: post-gazette.com/stories/local/neighborhoods-city/some-pittsburgh-motorcycle-bicycle-officers-now-wear-cameras-658021/