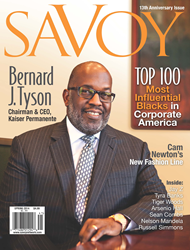 Atlanta, GA (PRWEB) March 04, 2014
Savoy Magazine announced their 2014 Top 100 Most Influential Blacks in Corporate America in their 13th Anniversary Spring issue. The Savoy Top 100 is the definitive listing of African American executives, influencers and achievers impacting corporate America. Bernard J. Tyson, Chairman and CEO of Kaiser Permanente graces the cover of the Savoy spring issue and includes an exclusive interview.
"The 2014 Top 100 issue features the highest caliber of executive leadership in Americas corporations," said L.P. Green, II, Publisher of Savoy Magazine. "Savoy is honored to feature such a powerful collection of inspirational leaders reaching new heights of achievement in business."
Selection of the "Top 100 Blacks in Corporate America" begins by examining the landscape of spheres of influence impacting Savoys readership including: corporate sector influence, scholastic achievement, career growth, community outreach and recognition. The information received from over 500 prospective candidates in diverse fields was pre-screened by the selection committee. The selection committee includes the Savoy editorial board and community leaders with representatives from the academic and business arenas. The committee reviewed information on executives in human resources, information, real estate, finance, investment banking, diversity, foundations, procurement, business development, marketing, sales, health care, manufacturing and legal. After reviewing all of the profiles, the field of candidates was narrowed to the 2014 "Top 100 Most Influential" listing based upon their exemplary record of accomplishments and influence while working to better their community and inspire others.
Executives recognized in the 2014 Savoy Top 100 Most Influential Blacks in Corporate America include:
David J. Albritton, Vice President and Chief Communications Officer, Exelis Inc.

Orlando Ashford, President of the Talent Business Segment, Mercer

Cynthia Augustine, Executive Vice President, Global Chief Talent Officer, DraftFCB

Lilicia Bailey, Executive Vice President, Chief People Officer, Belk, Inc.

Edward Baker-Greene, Senior Vice President of Human Resources, ING U.S. Retirement, ING U.S.

N. Cornell Boggs, III, Senior Vice President, General Counsel and Corporate Secretary, Dow Corning

Torrence Boone, Managing Director, Agency Business Development – Americas, Google

Rosalind G. Brewer, President & CEO of Sam's Club, Wal-Mart Stores, Inc.

Julia Brown, Chief Procurement Officer & Senior Vice President of Global Procurement, Mondelz International

Shannon A. Brown, Senior Vice President & Chief Human Resource Officer, FedEx Express, FedEx

Ursula M. Burns, Chairman and Chief Executive Officer, Xerox

Antoinette (Toni) Bush, Executive Vice President & Global Head of Government Affairs, News Corp

Lisa Jeffries Caldwell, Executive Vice President & Chief Human Resources Officer, Reynolds American Inc.

Tonit M. Calaway, Vice President, Human Resources & President, The Harley-Davidson, Foundation, Harley-Davidson, Inc.

Valentino D. Carlotti, Partner, The Goldman Sachs Group, Inc.

Kenneth I. Chenault, Chairman and Chief Executive Officer, American Express

Ralph Cleveland, Global Head of Customer Operations, AIG Property and Casualty Insurance

Malcomb Coley, Office Managing Partner, Ernst & Young LLP

Margot James Copeland, Executive Vice President & Chair of the KeyBank Foundation, KeyCorp

Todd Corley, Senior-Vice President, Abercrombie & Fitch

Arnold W. Donald, President and Chief Executive Officer, Carnival Corporation & plc

Thasunda Brown Duckett, Chief Executive Officer, Chase Auto Finance & Student Loans, JPMorgan Chase

Marvin Ellison, Executive Vice President of U.S. Stores, The Home Depot

Roger W. Ferguson, Jr., President and, Chief Executive Officer, TIAA-CREF

Melvin Flowers, Corporate Vice President, Internal Audit Group, Microsoft

Kenneth C. Frazier, Chairman, Chief Executive Officer and President, Merck & Co, Inc.

Rick Frazier, Chief Product Supply & Service Officer, Coca-Cola Refreshments, North America Group, The Coca-Cola Company

Patrick Gaston, President of The Western Union Foundation, Western Union

Ralph V. Gilles, President and Chief Executive Officer – SRT Brand and Motorsports, Chrysler Group LLC

Kimberley Crews Goode, Vice President of Communications and Corporate Affairs, Northwestern Mutual

Myron Gray, President, U.S. Operations, UPS

Tracey Gray-Walker, Head of the Association Business, AXA

Floyd W. Green, III, Vice President and Head of Community Relations and Urban Marketing, Aetna, Inc.

Princell Hair, Senior Vice President, News and Talent, NBC Sports Group, NBC

Jerome D. Hamilton, Vice President, 3M Lean Six Sigma, Supply Chain Acquisition Integration and Quality, 3M

Carla Harris, Vice Chairman, Morgan Stanley

Cheryl A. Harris, Senior Vice President, Sourcing & Procurement Solutions, Allstate Insurance Company

Brett J. Hart, Executive Vice President, General Counsel and Secretary, United Continental Holdings, Inc.

Marc A. Howze, Vice President, Global Human Resources, Deere & Company

Louis J. Hutchinson, III, Officer and Senior Vice President of the Public Sector & Energy Efficiency Practice, Constellation, Exelon

Arlene Isaacs-Lowe, Senior Vice President, Commercial Group, Moody's

Lisa P. Jackson, Head of Environmental Affairs, Apple

Marcus Jadotte, Vice President of Public Affairs and Multicultural Development, NASCAR

Wilbert W. James Jr., President, Toyota Motor Manufacturing, Kentucky, Inc., Toyota

Netha Johnson, President, Filtration and Process, Pentair, Inc.

Michael A. Jones, Chief Merchandising Officer, Lowe's Companies, Inc.

Doxie Jordan, Vice President, Diabetes Sales, South Area, Novo Nordisk

Gale V. King, Chief Administrative Officer, Nationwide

William F. Kornegay, Jr., Senior Vice President, Hilton Supply Management, Hilton Worldwide

Jon Love, Vice President, Strategic Development, North American Public Sector – Defense Group, CSC

Shawn Lytle, Head of Americas, UBS Global Asset Management & Group Managing Director, UBS

Jonathan D. Mariner, Executive Vice President and Chief Financial Officer, Major League Baseball

Richard J. Mark, President and CEO, Ameren Illinois Companies, Ameren

Leonard McLaughlin, President, Aon Cornerstone Innovative Solutions, Aon

Lawrence D. McRae, Executive Vice President Strategy and Corporate Development, Corning Inc.

Eddie Meyers, Regional President, PNC BANK, GEORGIA, PNC

Mike Millegan, President – Verizon Global Wholesale, Verizon Communications

Scott M. Mills, Executive Vice President, Human, Resources and Administration, Viacom Inc.

Rhonda Mims, President, ING U.S. Foundation and Senior Vice President, Office of Corporate Responsibility, ING U.S.

Jerrell Moore, Vice President, Community Affairs & Minority Business Development, Burger King Corporation

Karla D. Munden, Senior Vice President and General Auditor, Lincoln Financial Group

Richelle Parham, Vice President and Chief Marketing Officer, eBay North America, eBay

Mel Parker, President – North America, The Brink's Company

Eric E. Peterson, U.S. Vice President, Diversity Dealer Relations, General Motors Company

Charles Phillips, Chief Executive Officer, Infor

Ralph D. Reid, Vice President, Corporate Responsibility, Sprint

Derica W. Rice, Executive Vice P