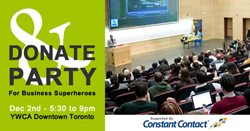 Toronto, Ontario (PRWEB) December 16, 2014
Business professionals in all industries and sectors are on the hunt for the latest marketing tips and tricks to help boost business, generate leads and conversions. In Toronto they converge at Donate & Learn business events created by Green Lotus, a renowned online marketing agency.
At the December 2, 2014 Donate & Learn event, sponsored by Constant Contact, KA Media and the Canadian Association of Marketing Professionals, hundreds of Toronto entrepreneurs and business professionals joined to learn about the latest trends in online marketing, email marketing and search engine optimization.
Top 5 takeaways from Donate & Learn Keynote Speakers:
1. Email Marketing Matters

Almost all professionals and businesses include email marketing in their overall marketing strategy, and most recognize email marketing as the most effective tool to generate leads and conversions.
2. Have a Specific Call-To-Action

Whether it is emails or other marketing channels, including social media, it is vital to have a clear call-to-action. Be specific and keep it simple. Provide one clear action for your audience to perform, and make it obvious.
3. Have a Clear Online Presence

Start with a solid website foundation, and stay on top of website development to ensure that there are no red flags including broken links, missing meta descriptions and tags, and an XML sitemap (which is used by search engines to classify websites).
4. Optimize for Search Engines

Search engine optimization is crucial for any business. Optimize for specific keywords and relevant locations to improve ranking on search engines and improve visibility online.
5. Spy on Competitors

Research the keywords and backlinks of competitors that rank well on search engines. Conduct an analysis to understand how and why competitors are succeeding in the online race. Implement changes in keywords, and increase the number of backlinks to your website.
View the Green Lotus Donate & Learn Presentations for more tips on email marketing and search engine optimization for small business owners.
Origins of Donate & Learn Workshops:

The Donate & Learn Workshop is an initiative created by Green Lotus (Toronto Search Engine Optimization and Online Marketing Agency) to support Torontos local non-profit organizations/charities, and provide informative workshops for small/medium businesses, and media specialists with a focus on social media, online marketing strategies, and the tools needed to achieve online marketing goals.
The concept is simple instead of paying a conference fee, participants make a $ 20 tax-deductible donation to Donate & Learn partnering charities, says Bassem Ghali, the founder of the Donate & Learn Initiative and Head of Client Strategy at Green Lotus.
There has never been a better way to learn!