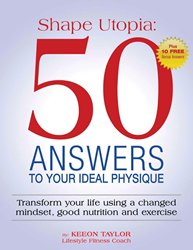 Port of Spain, Trinidad and Tobago, W.I. (PRWEB) April 28, 2015
From clients and social media fitness enthusiasts, Keeon Taylor spent two painstaking years analysing over 30 different questions per day. He has filtered them into a list of 50 most pertinent questions on fitness and nutrition. His new eBook "Shape Utopia: 50 Answers to Your Ideal Physique" provides accurate and direct answers.
These key 50 questions and their answers cover the important concerns for people who are passionate about fitness and healthy living. Their clarity and simplicity makes for easy comprehension and leaves no room for confusion. The topics covered range from motivation, nutrition and exercise types. It is an extremely rich eBook and even offers 10 more additional questions and their answers for fitness nerds.
Although anyone can research answers on fitness and nutrition in this information age most do not know how to apply the core information they truly need to achieve their fitness goal. This also accounts for the prevalence of less than effective exercise regimes and poor nutritional choices.
According to the Centres For Disease Control and Planning Obesity is higher among middle age adults, 40-59 years old (39.5%) than among younger adults, age 20-39 (30.3%) or adults over 60 or above (35.4%) adults. Obesity-related conditions include heart disease, stroke, type 2 diabetes and certain types of cancer, some of the leading causes of preventable death . Clearly, many people need help. The eBook answers questions and gives applicable action steps. People need solutions and the action steps to implement those solutions.
About Keeon Taylor

Keeon Taylor is a Certified Personal Fitness Trainer and Founder of Supreme Holistic Fitness. The company helps people to transform their lives using a changed mind-set, good nutrition and effective mindset. With these 3 concepts he has transformed the lives of over 2,000 people.
About eBookIt.com

Since 2010, eBookIt.com (based in Sudbury, Massachusetts) has helped thousands of authors and publishers get their books converted to ebook format, and distributed to all the major ebook retailers, including Amazon.com, Barnesandnoble.com, Apple iBookstore, Kobo, Sony Readerstore, Ingram Digital, and Google eBookstore.
CONTACT:

Phone: (868) 768-9132

Email: keeon(AT)supremeholisticfitness.com
###