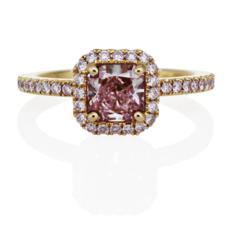 New York, NY (PRWEB) December 12, 2012
Five international bloggers were invited to De Beers stores in London and New York earlier this month to play out every girls dream for the day and pick out their perfect De Beers engagement ring for when that special moment arrives. The bloggers were delighted to admire the beautiful De Beers collections and select their dream engagement rings.
Emily Johnston of Fashion Foie Gras was in awe of the De Beers magnificent carat weights and selected a wondrous 5-carat DB Classic Simple Shank ring, allowing the diamond to take all of the focus with a simple yet elegant setting. Writing on her blog, Emily said: We were playing a little game called pick out your dream engagement ring and I asked for the biggest one that De Beers had on the counter!
Hedvig Opshaug of The Northern Light also went for a DB Classic Simple Shank, selecting a more understated look with a 0.7-carat diamond solitaire to complement her timeless, effortless contemporary style.
Peony Lim of Peony Lim matched her unique sense of style to the unique character of De Beers fancy cuts with an Asscher-cut Aura Pav