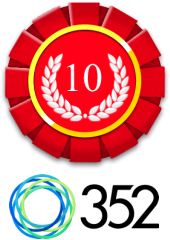 Newberry, Florida (PRWEB) February 25, 2014
Touted for creating trends, not just following them, 352 Media Group was named the top SEO agency by 10 Best SEO. Recognized for its cutting-edge websites and search engine results page (SERP) rankings, this agency was chosen for its proven display of unique talent in this arena. The rankings are compiled through exhaustive research and statistical analysis. Based out of Newberry, Florida, 352 Media has displayed unparalleled solutions in the SEO space, ensuring top-ranked results for its clients big and small. Through a one-on-one empowered relationship, team members work with each client to integrate user experience design, web development, digital marketing and mobile services.
The second place award went to Yodle, while third place went to Absolute Web Services. The 4th through 10th place winners for 2014 were Ocean 19, Falling Up Media, Phoenix SEO Company, Search Engine Surgeon, 3wiredesigns, Tuuli Media and Matomy, respectively. Special recognitions went to companies like BrightEdge, Future-Proof Web Design, Lumen Interactive and more.
352 Media took top honors as the number one Best SEO Firm due to its expertise in full-service digital offerings encompassing inspiring software, design and digital marketing. They promise to get clients up and running within six weeks as opposed to six months. This firm offers services relating to user experience design, agile web development, digital marketing and strategy, user insights and mobile. Past clients have included Tampa Bay Times and Cummins Engines.
Led by Geoff Wilson, president and CEO, as well as Peter VanRysdam, chief marketing officer and Caroline Blake, chief operating officer, 352 Media is run by a staff of software developers, client strategy consultants, interactive designers, front-end developers, marketing strategists and network support staff. This agency delivers high-octane web solutions that get results fast. Working in close collaboration with each client, 352 Media devotes resources to 10 teams made up of five agile development teams, two marketing teams, one UX team, one support team and one SWAT team, presenting a unified front to each and every client.
As the best of the best in terms of SEO, 10 Best Design chose 352 Media Group for its domination of the search engine optimization space on a global level.