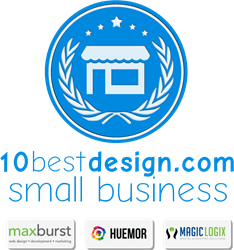 Long Island, New York (PRWEB) September 17, 2014
10 Best Design has selected the best small business web design firms for September 2014. Each month, 10 Best Design conducts an intensive review of all the agencies listed in its directory. The firms that rank in the top ten offer the most value to startups and small businesses.
Maxburst of Farmingdale, New York is the top rated company. This agency handles all the technical challenges involved in online promotion, including scripts and codes used for webpages, apps, and hosting. Maxburst also creates attractive front-end layouts, helps improve the online presence of any startup or small business, develops virtual logos and branding solutions, and conducts localized social media marketing campaigns.
Huemor Designs of Long Island, New York ranked second. This firm helps a startup or small business build its brand through quality design and social interactivity. They provide solutions in clear language that solve the needs of any online business. Huemor Designs is made up of a dedicated team with years of expertise and experience that have a proven track-record of building prosperous brand identities.
Magic Logix of Carrollton, Texas ranked third. This agency uses its expertise in multimedia and web development to deliver solutions that help build market share. Magic Logix creates attractive websites, conducts social media outreach marketing campaigns, can target customers in specific geographic regions, and offers eCommerce development for businesses that sell merchandise.
Listed by rank, the other top startup companies include: Hudson Horizons, Southern Web Group, Dotcomweavers, Cadre, Cynexis, Konstant Infosolutions, and Apan Software.
About 10 Best Design
10 Best Design is based in San Francisco, California. It provides reviews and rankings of web design agencies conducted by a team of experts in such fields as website development, branding, coding, and search engine optimization.
Committed to helping companies connect with top web design firms, 10 Best Design publishes a directory of web design agencies. Each month, it conducts an extensive review of all the firms listed in the directory which includes such factors as client and online research, reviews, awards, SEO rankings, and traffic.