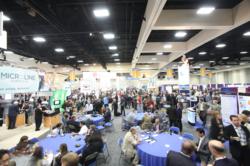 Baltimore, MD (PRWEB) April 02, 2013
Once a year the worlds top surgeons convene to advance the future of minimally invasive surgery (MIS). Hosted by the Society of American Gastrointestinal and Endoscopic Surgeons (SAGES), this years conference titled Innovating the Present for the Future will highlight technological innovations and medical breakthroughs in the fields of general, gastrointestinal, MIS and robotic surgery and will feature the latest hands-on surgical training and practice. The conference will be held April 17th through the 20th at the Baltimore Convention Center.
For the past 30 years, our primary goal for SAGES has always been to supply patients with the access, and the ability, to have outstanding care in all areas, said Dr. Scott Melvin, SAGES President and Professor and Chief of Gastrointestinal Surgery and Professor at Ohio State University. We recognize that technological advances such as MIS allow us to provide better options, easier recovery and even lower costs for our patients and by remaining at the forefront of research, education and standards of practice, SAGES continues to set the bar for patient care in the field. According to a study published on March 20th in JAMA Surgery, compared with standard surgery, certain minimally invasive procedures significantly lowered health plan spending and were associated with less time off from work.
The SAGES 2013 annual meeting, which is expected to draw more than 2,000 surgeons and allied health professionals, will include hands-on courses and scientific sessions on various advances in MIS and robotic surgery, tours of the learning center with new simulators and simulations scenarios and an exhibit hall featuring the latest equipment and instruments in the field. A Mini Medical School for high school students, featuring video games that help decrease errors and robotic helicopters, will allow students to show that they have the right stuff to join the future ranks of laparoscopic surgeons. Also, various SAGES Humanitarian Initiatives will showcase the organization's commitment to bettering the health of patients in the U.S. and in developing nations.
Conference highlights will include:
April 17: