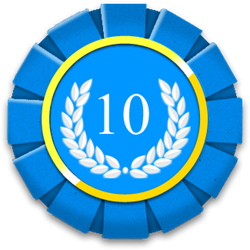 San Francisco, California (PRWEB) April 07, 2014
10 Best Design (10bestdesign.com), one of the largest awards organizations for web design companies, recently announced its Best Web Design Firms list for April 2014. In first and second places were New York-based Blue Fountain Media and Big Drop Inc., respectively, with Washington, D.C.-based CLiKZY Creative, cited for its diverse range of services, landing third. 10 Best Design offers many design-centric awards, and they are now awarding the web design companies which best meet clients needs.
Based in New York City, Blue Fountain Media represents an online marketing and design operation delivering remarkable solutions to its clients. 10 Best Design cited the firms ability to create unique strategies for every project, with each client receiving results-driven products destined to take their business to the next level. Beyond this Best Web Design Firms accolade by 10 Best Design, Blue Fountain Media has received awards from many organizations including GD USA, Horizon Interactive Rewards and Davey Awards. Dynamically fusing creativity with results-driven solutions, Blue Fountain Media was further cited by 10 Best Design for the way in which it takes the time to understand its clients corporate goals and visions.
Also calling New York City home, the second-place winner, Big Drop Inc., is one of the top website developers, cited by 10 Best Design as one of the best in the business. This web design agency boasts a plethora of experience and talent in the web design, development, SEO, video production and branding sectors, with the firm itself comprised of talented individuals that understand the importance of its clients websites.
CLiKZY Creative distinguishes itself among D.C. web marketing entities through the collective talent of its team clients are exposed to a diverse range of services conducted with the intent of maximizing their websites visual appeal and effectiveness in design. Further, 10 Best Design recognized CLiKZYs special consideration to the needs of all its hundreds of clients, acknowledging their individual needs while applying experience and skill to create stylish, timely pages.
Landing in best web design places four through 10, respectively, were New Jersey-based Dotcomweavers, Georgia-based The Creative Momentum, Oregon-based Forix Web Design, New York-based Doglogics, Illinois-based Kohactive, Georgia-based Southern Web Group and California-based Cofa Media.