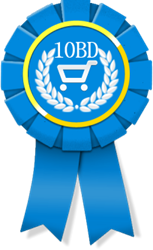 New York City, New York (PRWEB) June 16, 2014
10 Best Design, a provider of up-to-date news and information about the current top web design agencies, has announced its lists of the 10 Best e-Commerce Web Design Firms. The San Francisco, California named Blue Fountain Media as the number one eCommerce web design firm followed by Big Drop, Inc., and CLiKZY Creative to round out the top three.
Every month, 10 Best Design rates many website design companies. Eligibility is based on being listed in their Web Development Directory. According to their website, the company uses its analytic review algorithms to determine their lists including client research, online research, reviews, previous accolades, traffic and other SEO rankings, proprietary analytics, and other ranking sources.
In addition to eCommerce Design, other design category lists compiled by 10 Best Design are Overall Best Firms, Top Newly Added, Best SEO Design, Responsive Design, Custom Web Design, Mobile App Design, WordPress Design, and Drupal Design. Blue Fountain was awarded the top spot in several other categories.
eCommerce web design is the process of setting up a website to conduct business via the Internet. eCommerce web designers analyze data to help build websites that help companies obtain visitors then convert those visitors into paying customers. They focus on strategies to increase the conversion rate of visitors to customers such as intuitive design with clear messaging, quick loading pages, a strong call-to-action, and a user-friendly checkout process.
10 Best Design chooses the top ecommerce web development agencies with unique talent that stands out in the web design industry. According to their website, they believe that these eCommerce companies keep the industry moving forward because they don't just follow trends, they create them.
About 10 Best Design
10 Best Design is the #1 source for reviews and rankings of the best design firms such as web design, product design, architectural design and graphic design.