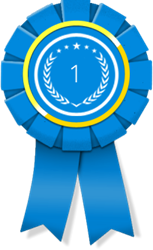 New York City, New York (PRWEB) June 09, 2014
10 Best Design, a uniquely structured awards organization in the web design industry, is committed to helping people connect with the top-ranked web design firms. This month, their team announced the 10 best website design companies for June 2014. Snagging the coveted first-place spot was New York-based Blue Fountain Media, cited for its high-quality SEO and web design services that ensure (its clients) develop a formidable online presence. In runner-up second and third places, respectively, were New York-based Big Drop Inc. and CLiKZY Creative of Washington DC.
Positioning themselves as partners for their clients digital growth, Blue Fountain recognizes that all of its clients have unique needs and desires. As such, the firm offers consulting services that enables its team members to identify what these clients brands are all about and subsequently implement a strategic advertising plan that will attract prospective clients to the goods and services they provide. In accomplishing this objective, the Blue Fountain team offers clients a myriad of online marketing services, email marketing, social media marketing, display advertising, conversion rate optimization and much more.
Also headquartered in New York, NY, Big Drop Inc., landing in a respectable second place, helps build fantastic websites boasting elegant and creative elements to help their clients build businesses online. According to 10 Best Design representatives, the company landed its top spot on the top 10 web design firms list due to its keen ability to help companies develop a brand, website and business presence, as well as for the firms way it shows off its clients originality and uniqueness.
CLiKZY Creative, situated in the heart of Americas capital, has been a staple on 10 Best Designs ranking lists in multiple categories, and for good reason. Since 2006, the website design firm has delivered innovative website designs for an array of clients, offering services such as web design, branding, content management and platform development. With offices in both Washington DC and New York City, CLiKZY Creative immerses itself in the latest design trends for nearly all web media.
Landing in spots four through 10 on 10 Best Designs preeminent web development agencies for June 2014 list, respectively, were: Atlanta-based Cadre, Portland-based Forix Web Design, Atlanta-based The Creative Momentum, Hoboken-based Inflexion Interactive, Paramus-based Dotcomweavers, Chicago-based Kohactive and Great Neck-based Dotlogics.
About 10 Best Design
This San Francisco-based team is comprised of individuals from all around the country who have worked in online branding and web design/development for many years, boasting experience in PHP, JS, CSS, HTML and other applications. Other experts on the 10 Best team encompass professionals in online branding and search engine optimization.