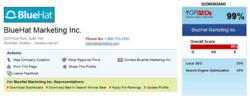 (PRWEB) January 21, 2013
TopSEOs.com recently put BlueHatMarketing in its Top 3 agencies for Local SEO in Canada, and Top 10 agencies for Search Engine Optimization in Canada overall.
This means that the BlueHat Marketing team is highly ranked among thousands of internet marketing agencies in Canada, as evaluated by TopSEOs rigorous review. TopSEOs main mission is to evaluate and identify the best companies that provide services and products in the internet marketing industry.

2013 will be a year of further development and expansion for BlueHatMarketing. The implementation of new technologies such as the new client report center will allow further refinement of SEO and marketing strategies to support BlueHat Marketings ongoing focus on customer service.
BlueHat Marketing serves a broad range of clients across Canada and the U.S., focusing on providing SEO packages that are fully customized to each individual case. The BlueHat Marketing SEO team puts emphasis on two angles: the unique Hybrid SEO approach which combines organic SEO with PPC ads for maximum first-page visibility, and the geographically targeted local SEO approach which is a powerful and efficient trend in online marketing for small businesses. (SOURCE: http://searchenginewatch.com/article/2199393/5-Reasons-Small-Business-Should-Love-Local-SEO)
To stay on top of the latest developments in the SEO and tech industry, visit the BlueHat Marketing blog.

Connect with BlueHatMarketing on Facebook and Twitter.