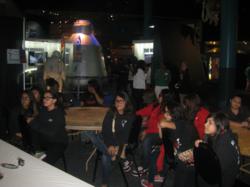 Houston, TX (PRWEB) June 06, 2013
TopSpot Internet Marketing participated in the Space Center Houston event Careers of the Future on May 17, 2013, presenting digital marketing career paths. In attendance at Space Center Houston were middle school and high school students from all over the Houston area.
Marketing Manager Nicole Buergers and SEO Specialist Israel Perez exhibited various search marketing jobs for a large group of students from Klein Intermediate Schools AVID (Advancement Via Individual Determination) program. The program is dedicated to helping children prepare for four-year college eligibility.
After a question and answer session of the students internet use and online behavior, Buergers and Perez explained how search worked, social medias integral role in search and the opportunities in learning code. They also described all the roles at TopSpot Internet Marketing and applicable college majors.
The event required an activity that showcases the careers exhibited. The students were shown a video made by the TopSpot Team and were asked to market the video online. The students decided to upload the video to YouTube and then together created the title and description of the video. Upon the students advice, TopSpot then shared the video on its social media channels.
According to Alice Walker, Curriculum Coordinator of Space Center Houston, TopSpot Internet Marketing was chosen after being published in the Inc. 5000. We wanted companies that could present to middle school students that use 21st century learning skills: communication, collaboration, critical thinking skills, and creativity. Walker went on to say, After reading your web page, the product that you produce and the skills needed, [TopSpot Internet Marketing] fit well into the message we are trying to get out to students.
TopSpots final piece of advice to the students at Klein Intermediate was one of following a passion: Whatever you want to do, be a geek about it.
About TopSpot Internet Marketing

A Google AdWords Premier SMB Partner, TopSpot Internet Marketing is a Houston search marketing firm with 60+ in-house team members. Since 2003, TopSpot has been helping B2B/industrial companies plan, implement and measure their online marketing efforts. Our service offering includes paid search marketing, SEO, website architecture, website design & development, mobile web development/marketing, analytics, email marketing, conversion improvement, multivariable (a/b) testing and consulting.