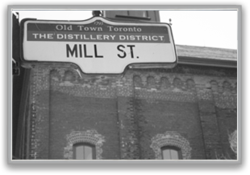 Toronto, ON. (PRWEB) November 21, 2012
The full service digital marketing agency, Mill St. SEO, has recently launched its all-inclusive offering for small to medium sized service-based businesses. This unique solution is unlike any other service offering from a Toronto SEO company. In fact, Mill St. SEO not only offers fully managed Search Engine Optimization and web marketing services for your business, they also provide a 30 day money back guarantee. This means that if your company decides to engage Mill St. SEO to aid in the online marketing of its business, your first month of service is literally risk free! Couple this with an outstanding customer satisfaction rating from its parent company Innate Media Group, Mill St. SEO seems to have created the perfect platform for managed online growth & success for small businesses nationwide.
While Mill St. SEO offers several services that are designed to cater to the specific needs of business, the most common of these are included in this new solution. A few to note are a customized website, SEO & social media management, professional content creation, and a toll free telephone number. Typically, businesses would have to consult and hire several companies or individuals to execute these types of marketing services successfully. Mill St. SEO on the other hand, claims to provide everything a business needs to generate organic leads, boost conversions, and increase the number of new customers thereby enhancing overall business growth. Their goal is to simplify the online SEO & marketing process by rolling combined service offerings into one convenient and affordable monthly package.
Other SEO & online marketing companies in Toronto typically work with companies based on the prerequisite of them already having a website. Mill St. SEO furnishes businesses with fully managed custom websites if needed, or improves their existing sites at no extra charge. They promise to integrate as a digital extension of a company and help take advantage of untapped digital revenue streams through lead and conversion optimization. Their diverse team of online experts have individually worked in the web marketing industry a minimum of 10 years. This experience makes them effective consultants who are there to plan and develop your marketing strategy from the ground up.
About:

Mill St. SEO is reinventing the way small business manages and executes online marketing. Through experience, technology, and a history of success, we focus heavily on lead generation with conversion optimization and have created an easy to use turn-key solution that simply works. Learn how to not only dominate your competitors in organic rankings, but also how to make those rankings equate to new customers and increased revenue for your business. For more information, visit us at http://www.millstseo.com