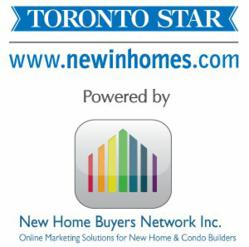 Toronto (PRWEB) November 29, 2012
The New Home Builders Network promotes community development, grass-roots efforts, and continues to support local fundraising initiatives by sponsoring the Donate & Learn Social Media Workshop, Dec 4th.
Whether just getting started with social media, planning an online marketing strategy, or deep into implementation; the Donate & Learn Workshop will provide the knowledge, strategies and networking opportunities needed to improve social media and online marketing results, taking businesses to the next level!
View the YWCA Donate & Learn Social Media Workshop Details
100% of Workshop donations will go towards the YWCA Toronto Adopt-a-Family Program to help give families a special holiday ensuring that mothers can buy a present for their children, and single women can treat themselves for once. The Workshop is free show your support, a donation to the YWCA is recommended (tax-deductible).
New Home Buyers Network:
NHBN is the one stop shop for new homes and condos in the GTA and Ontario. New Home Buyers Network provides their clients with a team of experts in marketing, search engine optimization, analytics, social media, e-campaigns, customer databases and sales providing an all-encompassing approach to strategic online marketing for home builders.
Origins of Donate & Learn Workshops:
When Bassem Ghali, the Donate and Learn Workshop organizer, and founder of Green Lotus, was asked what prompted him to create such an initiative he stated "I wanted to find a way to support local non-profit organizations and charities this holiday season, and looked into volunteering my time. I then thought that if I used my online marketing skills, as well as my professional and social networks, I could perhaps generate a larger effect. I shared the idea of doing an education workshop, with all proceeds donated to a local charity, and got nothing but encouragement, support, helpful ideas, and volunteers. The Donate and Learn Workshop is the result of the collaborative work of a multitude of individuals. I look forward to the event at the YWCA, and hope that we can make a difference in the lives of women and children through the Adopt-a-Family program."
Workshop website: http://www.newinhomes.com/articles/article.jsp?article=1317