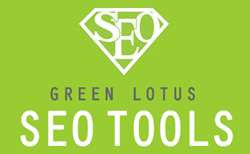 Toronto. Ontario (PRWEB) January 27, 2015
Search engine optimization is a necessity for any business but can be a tricky task for even the most seasoned specialists, and a dreaded task for many entrepreneurs and small business owners. Green Lotus has just launched SEO and Social Media Tools specifically designed to help entrepreneurs and small business owners get a handle on their SEO activities and improve their search engine rankings.
In addition to providing a do-it-yourself SEO checklist with over 200 search engine optimization tasks to boost website authority and overall rankings, Green Lotus SEO Tools also include:

Keyword Research Tools gather unlimited suggestions on keywords and phrases, including search volume, seasonal trends and competition level
Competitor Ranking Spy Tools check on competitor websites, track organic rankings, paid advertisements and vertical results (including news, videos, images, maps and more).
Competitor Backlink Spying Tools research links to competitors and pinpoint potential links for a website.
Content Optimization Tools run detailed SEO audits for a website, detect SEO issues and access advice on how to fix them.
Backlink Quality and Integrity Tools verify that all links to a website are non-toxic and help boost search engine rankings.
Social Monitoring Tools detect the most popular website pages on social networks, track social citations on Facebook, Google + and Twitter, and compare results to competitors.
Competitor Traffic Estimator get an estimate on the number of prospects competitors receive through search engine traffic.
Take advantage of the 30 Day Trial of Green Lotus SEO Tools now available at no cost to all new subscribers. Thereafter packages start at as low as $ 8.00/month!
Learn more about Green Lotus:

Bassem Ghali is the driving force behind Green Lotus and has a knack for creating innovative online marketing strategies for small, medium and large businesses. Bassem is a Search Engine Marketing Strategist and Speaker with more than 8 years of experience managing online marketing strategies for some of Canadians largest corporations including Canadian Tire, Direct Energy, and Toronto Star – New in Homes.
Demonstrated success in online marketing has led to speaking engagements at various events including Search Engine Strategies (SES) Toronto, University of Toronto, Ryerson University, Humber College, American Marketing Association, SOHO Business Expo, Online Revealed Canada Conference, Newmarket Chamber of Commerce and more.
Green Lotus:

1 Yonge Street – Suite 1801. Toronto, Ontario M5E 1E5. Toll Free: 1 800-878-1667