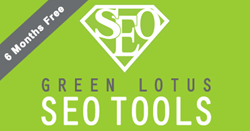 Toronto, Ontario (PRWEB) December 18, 2014
Many small businesses and entrepreneurs recognize the need to implement a search engine optimization strategy for their business, but cannot afford the cost of an SEO agency or marketing professional.
The new Green Lotus SEO Tools are designed to help small business owners and startups get a handle on their SEO activities and improve their visibility online. With simple and informative dashboards, Green Lotus Tools provide SEO-driven insights and competitive research for the most productive SEO beginner and marketing guru alike.
Boost website authority and overall online presence with SEO and Social Media Tools, including:

DIY SEO Checklist – Get full access to 200+ detailed SEO tasks to perform website audits, promotion and analysis efficiently. Track changes, and measure results.
Content Optimization and Submission Tools – Run detailed SEO website audits, detect SEO issues and get easy-to-follow advice on how to fix them. Submit a website to more than 90 search engines & 50+ Local and Business Directories handpicked by Green Lotus staff.
Internal Links Optimization Tool and Broken Links Checker – Get insights on internal link texts and page authority metrics. Check site for broken links and anchors.
Social Engagement Tool – Detect the most popular pages of a website across social networks. Track and compare social citations to competitors in Facebook, Google Plus, Twitter.
Keyword Research Tool – Get unlimited suggestions of keywords and phrases related to a business. Select keywords based on search volume, seasonal trends and competition level.
Backlink Quality Checker and Tracker Tools – Analyze and pinpoint toxic backlinks which may dampen search engine rankings. Monitor backlinks that have previously been earned and get notified if they have been cloaked or no-followed.
Keep an eye on competitors online with SEO Tools:

Competitor Ranking Spying Tool Checkup on competitors on 370+ global and local search engines. Track organic rankings, paid ads and vertical results, including news, videos, images, maps and more.
Competitor Content Analysis – Analyze competitor website content and view the keywords frequently used on their pages, together with the Google search volume, AdWords bid competition and Google search trends statistics.
Competitor Traffic Estimator – Get an estimate of how many prospects online competitors may gain, and find out competitor Alexa Traffic Rankings.
30 Day Trial of SEO Tools are now available for the holiday season! Get your website and search engine optimization strategy off to a great start for the new year.
More about Green Lotus:

Bassem Ghali is the driving force behind Green Lotus and has a knack for creating innovative online marketing strategies for small, medium and large businesses. Bassem is a Search Engine Marketing Strategist and Speaker with more than 8 years of experience managing online marketing strategies for some of Canadians largest corporations including Canadian Tire, Direct Energy, and Toronto Star – New in Homes.
Demonstrated success in online marketing has led to speaking engagements at various events including Search Engine Strategies (SES) Toronto, University of Toronto, Ryerson University, Humber College, American Marketing Association, SOHO Business Expo, Online Revealed Canada Conference, Newmarket Chamber of Commerce and more.
Green Lotus:

1 Yonge Street – Suite 1801. Toronto, Ontario M5E 1E5. Toll Free: 1 800-878-1667