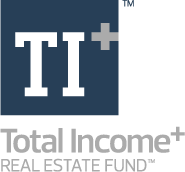 New York, NY (PRWEB) July 02, 2013
Dr. Randy I. Anderson, President of Bluerock Real Estate and Portfolio Manager of the Total Income+ Real Estate Fund attributes the dividend increase to the Funds ability to invest in what he believes are many of the strongest real estate portfolios available.
The Fund also reported an annualized Sharpe Ratio of 7.23 year-to-date, nearly triple the other top-ranked real estate funds, as ranked by Bloomberg. The Sharpe Ratio seeks to measure investment performance per unit of risk.
The second quarter had high volatility for traded real estate securities. However, our access to the institutional real estate markets helped provide consistency in both income and pricing, Dr. Anderson said. Overall, the fundamentals of the commercial real estate market appear to be improving and we could be entering a so-called Goldilocks environment, where the demand is growing at a slow and steady rate and little new construction is keeping supply muted.
The Total Income+ Real Estate Fund invests the majority of its assets in private real estate portfolios that generally have only been available to institutional investors who meet the multi-million dollar minimum investment criteria. As of the end of the second quarter, the Fund had total AUM of approximately $ 18.3 million. In the same time period, the value of the underlying real estate held by the institutional funds (in which TIPRX has invested) exceeded $ 23 billion and includes a national portfolio of office, retail, multi-family, industrial, hospitality, and specialty properties. The minimum investment in the Fund is $ 2,500 ($ 1,000 for retirement plans).
For copies of TI+ public company filings, please visit the U.S. Securities and Exchange Commissions website at http://www.sec.gov or the Companys website at http://www.bluerockfunds.com.
About Total Income+ Real Estate Fund

The Total Income+ Real Estate Fund offers individual investors access to a portfolio of institutional real estate investment funds managed by top-ranked fund managers. The Fund seeks to provide a comprehensive real estate holding designed to provide a combination of current income, capital preservation, long-term capital appreciation and enhanced portfolio diversification with low to moderate volatility and low correlation to the broader equity and fixed income markets.
Investing in the Total Income+ Real Estate Fund involves risks, including the loss of principal. The Fund intends to make investments in multiple real estate investment funds (i.e. fund-of-funds approach) which may subject the Fund to additional fees and expenses, including management and performance fees, which could negatively affect returns and could expose the Fund to additional risk, including lack of control, as further described in the prospectus. There can be no assurance that any investment will be effective in achieving the Funds investment objectives, delivering positive returns or avoiding losses.
Investors should carefully consider the investment objectives, risks, charges and expenses of the Total Income+ Real Estate Fund. This and other important information about the Fund is contained in the prospectus, which can be obtained by calling 888-459-1059. The prospectus should be read carefully before investing. Bluerock Fund Advisor, LLC is not affiliated with Northern Lights Distributors, LLC. 1482-NLD-7/1/2013