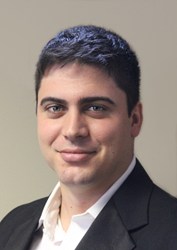 (PRWEB) August 14, 2013
Nathan Justice, TotaLand Technologies official Director of Communications since 2009, has moved the company forward in major ways, including rebranding efforts that emphasize the platforms efficient, intuitive systems. The progressive hosting solution for landmen surpasses similar platforms with its premium security and customized features, including a revolutionary patent-pending design that omits the limitations of tract- and lease-based structures. To successfully promote the systems many advantages, Mr. Justice has always focused on its simplicity of use and design. He optimized its application and experience by managing the re-launch of TotaLands public website and client interface, pushing for the adoption of responsive design, which allows users to easily access and navigate site content across a range of mobile devices and screen sizes.
TotaLand, dubbed the landmans virtual office, is one of the most innovative and advanced field land management systems in todays world of energy exploration and production (E&P), despite having yet to celebrate its 10th birthday. Founded in 2004 by professional landman Bill Justice, TotaLand arose from his resolve and ingenuity in tackling the inefficiencies and redundancies plaguing his line of work. Though he enjoyed a successful career as a landman, his field expertise and computer programming skills motivated him to create a platform that would lessen the frustrations and paperwork involved in the land research and acquisition business.
Fast forward to 2013, and TotaLand Technologies has transformed itself into a platform that eliminates those burdens, effectively allowing landmen to streamline the process of entering, storing and sharing their research data in one stroke. The business has also grown, bolstering client support with a robust team ranging from data management and training experts to experienced account managers. TotaLand also joined Fenstermaker, the multi-disciplinary consulting firm headquartered in Lafayette, Louisiana, in 2012 to expand its resources, particularly in GIS mapping, as part of their IT group.
Joining the team in 2006, Nathan Justice has always been committed to client satisfaction, exceptional service, and growing TotaLands business. He studied Public Relations while working full-time and graduated with a Bachelors Degree from the University of Louisiana (UL). Proficient in social media, marketing campaigns, and advertising planning, he strategically built the companys online presence, broadened brand recognition, and extended their market reach. Using both traditional methods and online resources, Mr. Justice successfully reaches and connects with existing and potential clients, industry peers, and the media.
This September, Mr. Justice will be scaling back on his role at TotaLand to pursue an MBA degree from the prestigious and highly competitive Hult International Business School. He will head to Dubai, one of Hults global campus locations, at the end of August to complete the main portion of his studies before finishing the last leg of his 12-month term in Boston, Massachusetts. Though reluctant to leave after building so much momentum during his time leading TotaLands PR efforts, he will continue to contribute remotely when possible and understands that investing in Hults global MBA will immeasurably increase his business knowledge and management skills. Ultimately, pursuing his MBA in Dubai will lend him experiences that will transform him into a stronger business professional, benefiting both the future of TotaLand and his career.
In anticipation of his departure, Mr. Justice implemented a quarterly client survey program to routinely gather feedback with the goal of consistently improving TotaLands tools, services, and support. He also researched, planned and initiated a 13-week campaign to directly introduce TotaLands advanced services in support of the surging oil and gas activities in Midland, Texas. Before leaving to attend Hult, he will be in Houston, Texas, along with Bill Justice and Chad Landry (Director of Training and Support), from August 14-16 for the 2013 Summer NAPE Conference. TotaLand is an exhibitor and will be showcasing their systems features at one of the largest events in the E&P industry. For fellow Summer NAPE attendees, swing by Booth #3019 to see TotaLand demonstrate how they can transform your land work through a custom virtual office and wish Nathan Justice good luck in Dubai.
*TotaLand Technologies, headquartered in Lafayette, Louisiana, provides innovative data management solutions to the land industry. Known as the landmans virtual office, TotaLand is committed to providing progressive, comprehensive online features and superior hosting security for our clients to manage their project efficiently. The TotaLand platform is currently the most robust and advanced management information systems available in the E&P field. Our dedication to client satisfaction is reflected in our world-class technical support and training. For more information on our services, please visit our website and sign up for a free trial today!