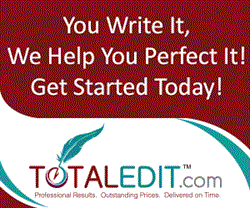 American Fork, UT (PRWEB) January 31, 2014
Professional proofreading and editing service provider TotalEdit.com posted a new blog titled Writing for an Audience 5 Rules to Make Readers Lend You Their Eyes.
The companys blog is a comprehensive online resource that guides content writers on different topics, ranging from style to grammar. Through each post, the editing services provider continues to ensure the production of high-quality content that reaches a wider audience.
When questioned about the new entry, Senior Editor for TotalEdit.com Brittany Stoker replied, In my years as an editor, nothing has been more tedious than setting the right tone and language in content, be they marketing materials or dissertations. One of the reasons for this issue is writers inability to understand their audience and what they expect from them. As a result, their readership base decreases and their message gets lost. Through this new post, I am trying to remedy an issue editing companies and writers alike have to face.
In Writing for an Audience 5 Rules to Make Readers Lend You Their Eyes, Stoker details five rules to successfully define the contents audience and get writers message across.
1. Identify Who Youre Writing For

2. Assess Your Audiences Knowledge on the Subject

3. Create a Balance Between Your Goals and Those of Readers

4. Be Polite and Never Forget About Cultural Diversity

5. KIS Keep it Simple
With the help of these, writers content will only need a few professional touchups rather than extensive editing to make their messages legible and easier to understand.
To read Writing for an Audience 5 Rules to Make Readers Lend You Their Eyes, visit http://www.totaledit.com/blog.
About TotalEdit.com
Founded in 2012, TotalEdit.com is a US-based English editing service provider. The companys dedicated staff of scholars and editors offers a range of services including business editing, dissertation editing, and academic editing services. To further ensure the success of clients content, TotalEdit.com implements a double-editor approach to guarantee high quality and meet the requirements of both individuals and institutions. For more information, please visit http://www.totaledit.com.