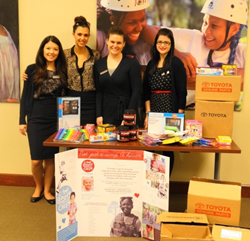 Eustis, FL (PRWEB) March 05, 2014
Recently, Toyota of Orlando and Toyota of Clermont hosted a Supply Drive to collect needed items for Camp Boggy Creek. More than $ 1,000 in supplies were donated by their staff and customers!
A great time was had when Toyota of Orlandos Digital Marketing Team visited Camp to deliver the donations. The items included: medical supplies, batteries, craft supplies, clothing and gift cards. Catherine McManus, Chief Development Officer of Camp Boggy Creek, stated, We are so grateful for the support of Toyota of Orlando and Toyota of Clermont. They rallied the Central Florida community to help provide greatly needed items for our campers.
Summer Camp is right around the corner and supplies of all types are needed. For more information on how organizations or clubs can host their own Supply Drive please visit campboggycreek.org/support/needs-list/ or call 352-483-4200.
More information about Toyota of Orlando and Toyota of Clermont can be found on their website at toyotaoforlando.com or by calling 888-725-3520.
# # #

About Camp Boggy Creek

Founded in 1996, Camp Boggy Creek is a year-round medical camp for children with serious illnesses. Co-founded by actor/philanthropist Paul Newman and General H. Norman Schwarzkopf, the camp offers week-long summer sessions and family retreat weekends at no charge to the children or families. Located in Eustis, Florida, the 232-acre nonprofit serves children ages 716 that have been diagnosed with chronic or life-threatening conditions. The camp is entirely funded by generous donations from individuals, corporations, foundations and healthcare partners. Camp Boggy Creek is a proud member of SeriousFun Children's Network. Learn more by visiting campboggycreek.org.