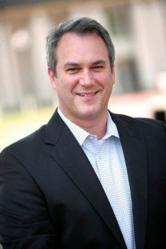 Atlanta, GA (PRWEB) May 08, 2013
TracePoint Consulting was named one of Atlantas 100 fastest-growing private companies, earning a 2013 Pacesetter Award by the Atlanta Business Chronicle. TracePoint ranked 26th on the list of 100 companies, reflecting tremendous growth over the past two years and success in taking its business to the next level. Since founding in 2009, TracePoint has grown a remarkable 2,355 percent.
Our growth reflects the increasing demand for change management programs supporting large-scale IT implementations across numerous industries, said Randy Geoghagan, president and CEO of TracePoint Consulting. As organizations incorporate new technology solutions, it is the employees who play the most critical role to ensure adoption and ultimately more efficient operations as a result of the investment. We provide practical programs, tools, templates and services to companies that help employees understand the people, process and technology benefits and impacts of the new IT initiatives.
Qualifying companies were privately held, based in the 20-county metro Atlanta area and not a subsidiary of another company. Companies, founded before or during the first quarter of 2010, must show a two-year growth in sales of more than 50 percent, with revenues between $ 1 million and $ 300 million.
In 2012, TracePoint was selected as a Premier level partner (Authorized Education Partner) with SAP North America to deliver Organizational Change Management and Training services. This distinction reflects the collective expertise at TracePoint and its ability to leverage state-of-the-art tools to facilitate alignment of people, processes and technology. Such alignment is mission critical to a companys return on investment from new technology.
TracePoints clients are large, private corporations; healthcare companies; public sector organizations; and governmental agencies.
About TracePoint Consulting

5555 Glenridge Connector, Suite 200, Atlanta GA 30342

TracePoint Consulting was founded in response to an industry need for knowledgeable and experienced organizational change management (OCM) leadership during implementation of large-scale IT solutions. We are a consulting firm that facilitates the alignment of people, process and technology and brings focused expertise and experience in IT transformation support, training and education, communications and OCM across multiple clients and industries. Our number one goal is to complement and support the ASAP methodology with our specialized services, helping to ensure on-time, on-budget, and on-the-mark business outcomes. More information is available at http://www.TracePointConsulting.com.
SAP and all SAP logos are trademarks or registered trademarks of SAP AG in Germany and in several other countries. All other product and service names mentioned are the trademarks of their respective companies.