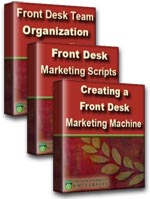 (PRWEB) August 31, 2012
The new Internet Dental Alliance, Inc. (IDA) multiple website dental marketing package include videos that help dentists train their front desk teams to convert new patient leads and increase profits from their practices. The three-part "Front Desk Marketing Machine" tutorials help dentists focus front desk activities, provide the team with effective scripts they can use, and organize staff to maximize profitability. The bonus videos are part of IDA's New Patient Marketing Machine — a turnkey internet dental marketing system designed to generate a steady stream of targeted leads for dental practices.
The bonus videos are designed to help dentists successfully convert the leads generated by their marketing campaigns into active patients. According to research by dental marketing blog TheWealthyDentist.com, up to fifty percent of phone calls to a dental practice for the purpose of getting more information to make a decision about setting an appointment are lost because front desk staff doesn't respond properly. That means doctors are missing opportunities to add new patients to their practices.
Dentists who staff their front desks with people who aren't properly trained to convert inquiries into new patients are throwing money away, says Jim Du Molin, founder of Internet Dental Alliance and a dental practice marketing expert. Successful dental marketing doesnt stop at generating leads for new patients. Dentists need to train their staff to convert the leads into patients — so we give dentists the tools to do that!
The Pro and Premium New Patient Marketing Machine packages provide either five or ten Portals (dental websites). In addition, they include listings in IDA's online dental directory network, dynamic search engine optimization (SEO), lead and call tracking, Facebook pages and tabs, access to IDA's library of premium videos, interactive mobile website applications. In addition to the "Front Desk Marketing Machine" tutorials, there are two more sets of videos on internal dental marketing strategies that doctors can use to increase conversions and maximize profits.
About Internet Dental Alliance, Inc.
IDA is the largest North American provider of websites for dentists and dental directories. Known for its cutting-edge approach to dental marketing, it completed development of its advanced Lead Fire technology in 2012. Lead Fire's proprietary content generation technology makes it possible for doctors to generate new patient leads within minutes of set up, and uses organic geo-targeted local search, customized and optimized for each dental practice . Internet Dental Alliance provides dental website design, find-a-dentist websites and other dental management advice and internet marketing resources.