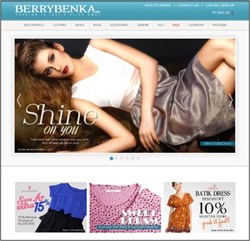 Tokyo, Japan (PRWEB) November 21, 2013
transcosmos inc. (Headquarters: Tokyo, Japan; President and COO: Masataka Okuda; TSE First Section: 9715; hereafter, transcosmos) has agreed to acquire more than 30% of the outstanding equity interests of PT.BERRYBENKA (Headquarters: Jakarta, Indonesia; CEO: Jason Lamuda; hereafter, Berrybenka.com), a leading fashion E-Commerce company in Indonesia.
Berrybenka.com collaborates with both local and international fashion brands, focusing on fashionable yet affordable clothing lines for all Indonesian female, ranging from dresses, tops, outers, accessories, shoes to bags. Berrybenka.com works with fashion brands and also local designers, such that they can focus on designing the best and most fashionable clothing, while Berrybenka.com acts as the online platform to sell the products at affordable prices. Currently, Berrybenka.com has collaborated with more than 500 local brands, and the company conducts consistent End to End operations ranging from planning and manufacturing to inventory control, online sales, order management, fulfillment and delivery.
With services launched in April 2012, the business model of Berrybenka.com has accurately reflected the needs of the market and has grown rapidly, realizing a stable increase in monthly sales volume to date, and in the E-Commerce market of Indonesia which is estimated to be more than four times the current size in 2015, further growth is expected in the future. With the increase of capital this time, Berrybenka.com will expand the distribution warehouse space, as the number of shipments is increasing rapidly, and will also enhance corporate branding.
Overview of Berrybenka.com

Company name: