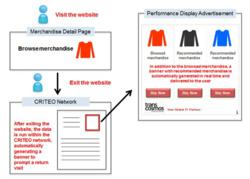 (PRWEB) July 03, 2012
transcosmos inc.(Headquarters: Shibuya Ward, Tokyo; President & COO: Masataka Okuda; Securities code: 9715; hereafter, transcosmos) will be enhancing its sales structure for CRITEO Performance Display Advertising, an advertising product of CRITEO Inc. (Headquarters: Shibuya Ward, Tokyo; President: Masahiro Ueno; hereafter, CRITEO) for which transcosmos performs sales representation. An exclusive sales team has been established in response to developments including the growing number of companies served and an increase in requests received from client companies.
CRITEO was established in 2005 in Paris and is a provider of performance display advertising based on world class PPC (pay per click) billing. Retargeting ads have been drawing attention as a means to stimulate purchasing by effectively featuring merchandise for users who have once visited a website. The performance display advertisements offered by CRITEO, the leading company in this field, automatically generate merchandise unit banners in real time based on the merchandise a user has browsed, thereby prompting a return visit. In addition, banners are also automatically generated by a recommendation engine for related merchandise and analyzed merchandise, and a highly effective retargeting delivery is sent to the user.
transcosmos began selling CRITEO Performance Display Advertising in October of 2011, and has already introduced and performed operations for many client companies including EC (general online order, apparel, etc.), real estate, professional certification, travel and staffing companies. (First place for the number of companies sold in Japan; transcosmos survey) Based on the fact that all client companies where the system has been introduced have shown significant results, and with the expectation that personalization of advertising will be a major trend in the future, we will strengthen our sales of CRITEO Performance Display Advertising which is leading this trend. An organization has been put in place with a specialized staff of 10 persons, who have operating knowledge of search-linked advertising and display advertising, in order to provide implementation, operation and upgrading.
Performance display advertising delivery image
We have received the following comments from Mr. Masahiro Ueno, the president of CRITEO Inc.:

As an Internet advertising firm, we would like to thank transcosmos, with its superb track record, for establishing a dedicated sales team for CRITEO, and we believe this will further deepen the relationship between our two companies. With advances including CRITEOs entry into the smartphone advertising market, as well as the development of new technologies, we will continue striving to achieve even higher performance.
In the future, transcosmos will implement integrated management of search-linked advertising, display advertising, CRITEO and social advertising, with the aim of maximizing the impact of overall Internet advertising for our client companies.


transcosmos is a registered trade name or trademark of transcosmos inc. in Japan and other countries.
Other company names and product or service names mentioned are registered trade names or trademarks of various other companies.
(About transcosmos inc.)

transcosmos launched operations in 1966 as a pioneer in the information processing outsourcing business. Since then it has combined superior human resources with the most up-to-date technological capabilities to enhance the competitive strength of its corporate clients by providing them with high value added and superior services. It provides overall IT outsourcing services such as call center services, business process outsourcing services, business process solution services, and digital marketing services either as standalone solutions or as combined services to its corporate clients to optimize their marketing efficiencies, to expand sales and gain new customers. Further, these services have been expanded beyond Japan, globally, centered in Asia. transcosmos aims to be the Global IT Partner of its corporate clients to provide them with high quality outsourcing services on a global scale. (URL http://www.trans-cosmos.co.jp)