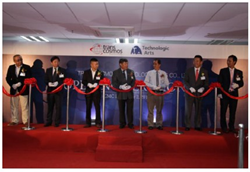 Tokyo, Japan (PRWEB) December 25, 2014
transcosmos inc. (Headquarters: Tokyo, Japan; President and COO: Masataka Okuda; TSE First Section: 9715; hereafter, transcosmos) hosts an opening ceremony for Transcosmos Technologic Arts co., ltd (Headquarters: Ho Chi Minh City; Representative: Le Xuan Minh; hereafter, Transcosmos Technologic Arts), a New Company in Ho Chi Minh City, Vietnam on December 2, 2014.
Transcosmos Technologic Arts is a joint venture company established by transcosmos and Technologic Arts Incorporated (Headquarters: Minato-ku, Tokyo; President: Yoshihide Nagase; hereafter, Technologic Arts).
Technologic Arts was founded in Japan 1989. In June 2012 it established a local subsidiary in Vietnam to implement agile development off-shore, where it has achieved high quality software development at low cost.
About Transcosmos Technologic Arts

Name: Transcosmos Technologic Arts co., ltd

Representative: Le Xuan Minh

Location: Ho Chi Minh City, Vietnam

Date established: November 21, 2014

Business description: E-Commerce website production and smartphone application development based on an agile development model

Supported languages: Japanese, English and Others
Transcosmos Technologic Arts provides E-Commerce website production and smartphone application development operations from off-shore for the Japanese market, by combining the agile development model know-how possessed by Technologic Arts with the off-shore service that transcosmos has been providing in China and ASEAN.


transcosmos is a registered trade name or trademark of transcosmos inc. in Japan and other countries.
Other company names and product or service names mentioned are registered trade names or trademarks of various other companies.
About transcosmos inc.

transcosmos launched operations in 1966. Since then we have combined superior human resources with up-to-date technological capabilities to enhance the competitive strength of our clients by providing them with superior and valuable services. transcosmos currently offers Cost Reduction Services (Contact Center, HR/Financial/Sales Back Office, Order Management/SCM, System Development/Management etc.) and Sales Expansion Services (Big Data Analysis, Internet Advertising, Website Construction/Management, Smartphone/SNS Utilization, Telemarketing etc.). transcosmos continues to pursue operational excellence by providing these services through our 126 locations in 16 countries with a focus in Asia. Furthermore, following the expansion of E-Commerce market on the global scale, transcosmos provides a comprehensive, one-stop global E-Commerce service to deliver our clients' excellent products and services to consumers in 39 countries. transcosmos aims to be the "Global BPO Partner" of our clients to provide them with high quality BPO services on a global scale.
Contact for news media inquiries

Inquiries from the media should be forwarded to transcosmos inc.

Public Relations & Advertising Department

Mail: pressroom(at)trans-cosmos(dot)co(dot)jp