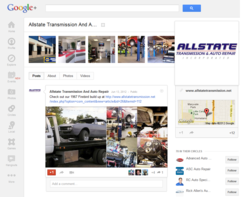 Phoenix, Arizona (PRWEB) June 28, 2012
The team at Allstate Transmission Repair in Phoenix, is a good example how businesses are taking advantage of social media trends.
Jeff Wilson, GM at Allstate Transmissions of Phoenix states Everyone understands the importance of having a Twitter and Facebook Fan Page for their business, but I believe ignoring the potential that Googles offering with G+ is a huge mistake. Its still young, but with Googles power backing it and the way it integrates with other Google sites and services like; Googles search engine, Gmail, Google Maps, Blogger, YouTube and Picasa, its only a matter of time before its larger than all the other social media sites combined.
Google+ is finally starting to catch on with business owners that realize its potential. A relatively new social media venue, released to the public September 20th, 2011, has gained over 170 million registered users in the first 9 months. As a means to compete with Facebook, Google is heavily promoting the site by linking the Google+ business pages to the Google Places Business Listings. Google is also giving preference to search query result ranking if the searched terms are related to Google+ page content, especially when users are logged in during a search.
I like the fact that Google+ allows its users to +1 and recommend items across the web to their friends and contacts Wilson says its much easier to share liked sites or pages rather than having to log into previous social bookmarking sites like; StumbleUpon, Digg, Reddit, etc, it has combined everything into one network.
Allstate Transmissions still plans on keeping all their other social sites up to date so followers who dont migrate over can still stay in touch with the transmission shops latest updates and events, but I think theyre headed in the right direction with Google+ and being able to offer their followers a nice variety of ways to interact with the company.
Business Information;
Allstate Transmission And Auto Repair

5154 N 27th Ave Ste 103

Phoenix, AZ. 85017
Phone; 602 253-2553

Fax; 602 262-9495
Website; allstatetransmission.net

Email; info(at)allstatetransmission(dot)net
Affiliations;

Better Business Bureau

Automatic Transmission Service Group

NAPA Auto Car Center
Awards and Recognition;

Voted as "The Best Shop For Transmission Repair In Phoenix"

Earned the "Circle of Excellence" Award

Recognized as a "Top Merchant" in Phoenix. AZ.