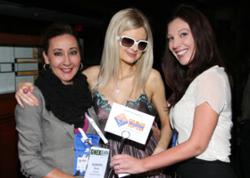 Orlando, FL (PRWEB) February 20, 2013
Travel To Go, Gold Sponsor of GNEX 2013, hosted a lunch for over 190 guests on Rodeo Drive, befitting all the glamour, glitz, and entertainment that visitors to Beverly Hills and attendees of GNEX have come to expect. This had Wilshire & Rodeo buzzing with conference attendees and tourists clamoring to get a photo with the Travel To Go VIP spokesperson, Paris Hilton.
As guests looked on, whispering to each other, is that really her?!?, Renee Wagner, Marketing Manager at Travel To Go, escorted the faux heiress to each guest for a personal meet-and-greet and photo-op. Youre invited to LIKE Travel To Go and view photos of the event at http://www.Facebook.com/TravelToGoVacations . Not on Facebook? Download photos at http://www.TravelToGo.com/GNEX .
Jeanette Bunn, President of Travel To Go said, We were extremely excited to once again participate at GNEX, while taking our sponsorship support to the next level. The Gold Sponsorship level at GNEX 2013 allowed us to showcase the forward thinking, out-of-the-box approach Travel To Go brings to the products and services we create and fulfill.
Paul Mattimoe, President & CEO, Perspective Group said, "It was wonderful to have Travel To Go return as Gold Sponsor for GNEX 2013 and the added twist they included this year for the lunch they hosted was a big hit with all that attended. We really enjoyed the extra layer of fun that the Travel To Go team brought to the conference."
About Travel To Go

Travel To Go offers travel benefits and services to a loyal customer base of 50,000 members and is currently celebrating 23 years in the vacation and travel industry. The company prides itself on its 5-Star service standards and achievement of its mission to Making Dreams Come True. The company is licensed with all necessary agencies including the states of California, Florida and Hawaii. It maintains an A+ rating with the Better Business Bureau, and is a member of the San Diego Chamber of Commerce, ARDA, and the Cooperative Association of Resort Exchangers (C.A.R.E.). Sky Travel, a division of Travel To Go, is an approved travel agency licensed by the Airline Reporting Corporation (A.R.C.), IATAN and CLIA.
Contact: Renee Wagner/800-477-6331, ext. 116
About Perspective Group

The Perspective Group provides the vacation ownership industrys most comprehensive independent multi-media marketing and publishing services globally. The Group includes five regional trade magazines under the Perspective Magazine brand, consumer publication Owners Perspective Magazine, plus member magazines and customized magazines specifically created for clients. A full suite of the latest online and interactive marketing services, including advanced tracking and analytics, are offered through Perspective Interactive, and the Global Networking Expo GNEX 2013: The Global Meeting of Minds will bring together industry leaders from six continents. Also coming under the Perspective Group are PerspectivePR public relations services and recruitment advertising service TimeshareStaff.com.
Much more than a magazine publisher and media sponsor of over 30 industry events, the rapidly growing Perspective Group offers a strategic range of sales and marketing products and services to assist developers and marketers with sales, lead generation, recruitment, customer retention, upgrades, referrals and much more. For further information just visit http://perspectivemagazine.com/services
###
Contact:

Steve Luba

PerspectivePR for Perspective Group

Ph: 407-792-2343