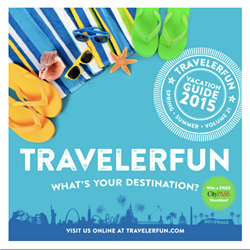 Des Moines IA (PRWEB) April 21, 2015
TravelerFun.com is a website maintained by Travel Advertising Group (TAG) in Des Moines, IA, which specializes in providing users with vacation planning ideas, travel tips, and free vacation guides to help visitors plan unforgettable vacations. TravelerFun released their 21st seasonal vacation guide on April 5th to welcome the new, warm seasons.
TravelerFun produces a new vacation guide bi-seasonally, releasing exclusive deals and information for anyone looking for a fun and relaxing holiday. TravelerFuns exclusive vacation guides first started in 1993 and have been in production ever since. From romantic weekend trips to exciting adventures for all ages, the 2015 TravelerFun Vacation Guide had something for everyone. TravelerFuns eclectic set of destinations allows people to pick a vacation perfect for their specific travel needs.
Destinations included in the 2015 spring and summer vacation guide were the beautiful Gillette-Wright, WY, home of the breathtaking Devils Tower National Monument, as well as Galveston Island, home of the tallest swing ride in Texas. The vacation guide also gave information on the fishing haven of Lake Vermillion, MN, and the home of classic barbecue, Kansas City, KS.
TravelerFun also gave exclusive looks inside their vacation guides destinations on the TravelerFun blog as well as on their social media websites, highlighting a new theme of exciting destinations every week. Some of the themes included on TravelerFun were wineries and tasting rooms, breweries, hidden theme parks, camping, biking and much more. These outlets allow users to have a space where they can explore the TravelerFun vacation guide even more, highlighting such excursions as cave diving, wine festivals and zip lining.
The summer vacation guide was just the tip of the iceberg for TravelerFun, with social media posts and blogs going live daily, as well as a new fall and winter vacation guide already going into production.Users can find out more about TravelerFun, access their blog or download their 2015 summer vacation guide on travelerfun.com. Users can also follow TravelerFun on Facebook, Google+, Instagram, Pinterest or Twitter.