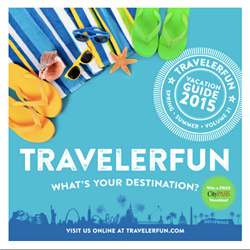 Des Moines, Iowa (PRWEB) April 28, 2015
TravelerFun is a website run by Travel Advertising Group (TAG). TAG is located in the Masonic Temple building in the heart of downtown Des Moines, Iowa. For 21 years, TAG has been focused on providing vacation destinations and travel tips on multiple platforms. The company prides itself on fast, consistent and flexible service. Keeping up with new trends and the ever-changing travel industry is just one way they attract clients and readers.
TravelerFun announced the release of their first ever Fall and Winter Vacation Guide. Set to be released on September 27, 2015, this vacation guide will give readers information on TravelerFuns top destinations for those cooler months of the year, as well as provide tips on where to go, when to go, and what to visit. Some destinations that will be featured in the 2015 Fall and Winter Vacation Guide are Sikeston, Missouri; St. Charles, Missouri; Graceland, Tennessee; Des Moines, Iowa; and Laredo, Texas. It will go into circulation September 27, 2015, and will be distributed in Iowa, Indiana, Illinois, Ohio, Michigan, Minnesota and Wisconsin.
Over the years, TravelerFun has released twenty-one spring and summer vacation guides. Their success has led them to distribute their guides all across the 50 states. TravelerFun ensures that their customers are always satisfied.
I saw instant results from the Vacation Guide newspaper insert and had friends from several states posting on my Facebook about our 2013 ad, said Brenda Leisy of Scotts Bluff, Nebraska, We will definitely continue to place ads with Travel Advertising Group.
With the combination of social media, digital and print advertising, destination ideas are accessible to thousands of travelers. TravelerFun focuses on using cross-platform marketing in order to connect to different people from all walks of life, utilizing social media and print advertising to ensure broad exposure.
The fall-winter campaign package includes online, social media and print advertising. Additionally, the campaign includes free event listings, digital brochure hosting, unlimited content updates, and featured posts on the TravelerFun blog. The platform marketing strategy helps improve their overall presence across all social media platforms for the price of a print campaign.
TravelerFun is dedicated to offering quality service while promoting top destinations to its readers, and the 2015 Fall and Winter Vacation Guide will accomplish just that. Readers can keep up with TravelerFun on social media sites such as: Facebook, Twitter, Instagram, Google+ and Pinterest. For more information about the TravelerFun Fall and Winter Vacation Guide, visit travelerfun.com. To find out more about advertising with Travel Advertising Group, log on to traveladvertisinggroup.com.